Skip to main content
315W Wine Storage Unit Light Bulb
Topics:
How to change the light bulb in a 315W Wine Storage unit
Is a service call needed to change a light bulb in a 315W?
Is a light bulb for a 315W available locally?
Light bulb part # 7018677, 12288801
Troubleshooting:
The interior lighting automatically turns on when the door is opened.
To illuminate the interior when the door is closed, move the light switch to the ON position.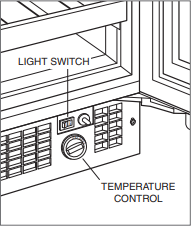 Answer:
The 315W replacement light bulb is part number 7018677.
Replacement bulbs are no longer available.
Standard appliance bulbs will not work with the 315W, and bulbs are not available locally.
Replacement bulbs are not low voltage. A low voltage replacement is not available.
The bulb is found inside the bin at the top of the appliance and is protected by the light housing.
DID THIS ANSWER YOUR QUESTION?

We're standing by with answers
Whether you're shopping for appliances or have questions about those you already own, we've got the resources you need. Talk directly to a customer care expert at the Sub-Zero, Wolf, and Cove service center, or connect with an appliance consultant at an official showroom near you. Get quick answers online, or reach a certified service provider or installer. And much more.
Call us at (800) 222-7820