Skip to main content
PRO Refrigeration Door Adjustment
Topics:
PRO Refrigeration door adjustment
How to adjust the doors on a PRO3650 and PRO4850
PRO series door adjustment up-and-down, side-to-side, and tilt
PRO Refrigeration door squeaks
In-and-Out and Up-and-Down Adjustment
1. Place the door on a protected work surface, then loosen the two upper hinge mounting screws.
2. Remove the two lower hinge mounting screws, then remove the lower hinge. Refer to the illustration below.
3. Remove the positioning screw from the bottom of the door, then use the adjustment pin to make up-and-down and in-and-out adjustments. Refer to the illustration below. Each vertical hole location adjusts the door 1/32". The slotted holes allow for in-and-out adjustment.
4. Once the adjustments are made, install and tighten the positioning screw.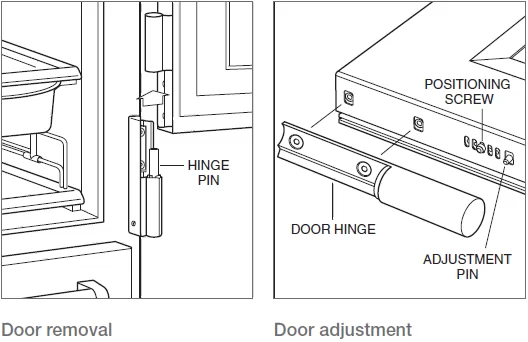 5. Loosen the two mounting screws on the upper and/or lower cabinet hinge. Refer to the illustration below.
6. Use the Allen wrench provided to rotate the adjustment screw.
7. Install the hinge pins and door, then verify the door alignment.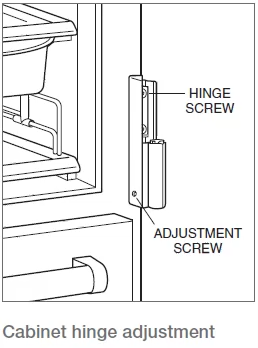 DID THIS ANSWER YOUR QUESTION?

We're standing by with answers
Whether you're shopping for appliances or have questions about those you already own, we've got the resources you need. Talk directly to a customer care expert at the Sub-Zero, Wolf, and Cove service center, or connect with an appliance consultant at an official showroom near you. Get quick answers online, or reach a certified service provider or installer. And much more.
Call us at (800) 222-7820