Skip to main content
Double Wall Oven Display Operation
Topics:
How to see information for each oven when both are in use
Use both ovens at the same time in a Wolf Double Wall Oven
Setting cooking modes for Double Ovens
Answer:
Setting cooking modes and seeing oven information on Wolf Double Ovens is different depending on model.

L Series
L Series Double Ovens have two LCD display readouts on the control panel.
Touch the desired oven On/Off button to select desired cooking mode and preset temperature.
When both ovens are in use, both displays will show information for the corresponding oven.
See also, L Series Oven Use and Care Guide.

E Series Double Ovens have one LCD display readout.
Display will only show information for one oven at a time.
Press Upper/Lower to toggle between ovens to set cooking modes and temperature.
Press Upper/Lower during cooking to see information for each oven.
See also, E Series Oven Use and Care Guide.

M Series Double Ovens have one GUI display readout.
Display is split to show upper oven information in the top half and lower oven in bottom half.
Set controls independently by selecting desired oven.
Information for both ovens will appear at all times.
See also, M Series Oven Use and Care Guide.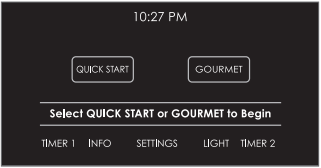 DID THIS ANSWER YOUR QUESTION?

We're standing by with answers
Whether you're shopping for appliances or have questions about those you already own, we've got the resources you need. Talk directly to a customer care expert at the Sub-Zero, Wolf, and Cove service center, or connect with an appliance consultant at an official showroom near you. Get quick answers online, or reach a certified service provider or installer. And much more.
Call us at (800) 222-7820