Skip to main content
Oven Cleaning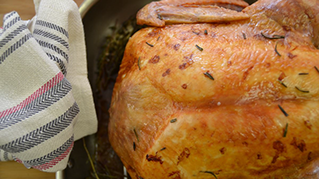 Turkey Recipes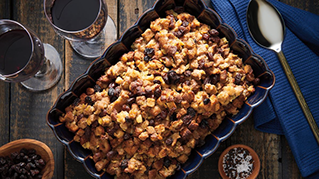 Other Recipe Tips
Turkey Guidelines
Estimate at least 1lb per person. For more leftovers, plan on 1.5-2lb per person.
Regular Wolf oven racks can each support a total of up to 25 lb (11.3 kg). Full-Extension Ball-Bearing racks can support 52 lb (24 kg).
To thaw in the refrigerator, plan on 24 hours for every 4.5lb. 
To thaw more quickly if needed, submerge turkey in water and change water every 30 minutes. Allow 30 minutes per pound - for example, 5 hours for a 10lb turkey.
Stuffing must reach an internal temperature of 165 degrees.
Cook stuffing in a separate dish, rather than inside the turkey, to avoid drying out the meat before the stuffing finishes cooking.
Brined
Weight (lb)
Recommendation
No
Less than 14lbs
Convection Roast at 300 degrees for 10-15 minutes per pound. Aim for the lower end.*
14lbs or more
Roast** at 300 degrees for 10-15 minutes per pound.* 
Yes
N/A
Bake at 350 degrees for 10-15 minutes per pound. Aim for the higher end.*
*If using a temperature probe, insert it horizontally into the thickest part of the thigh, and set the probe for 180 degrees. A chime indicates that the temperature has been reached.
**Because large turkeys require a long cook time, the air circulation of Convection Roast can lead to dryer meat. Roast is recommended for best results.
If using a Convection Steam Oven (CSO):

We recommend cooking using Convection Humid at 350 degrees.
If using a turkey cooking bag, the bag will block the benefits of steam. Use a convection only mode or cook instead in a traditional convection oven.

After removing the turkey from the oven, let it rest for 15-20 minutes before carving.

Leftover turkey can be stored in the refrigerator for up to three days.
DID THIS ANSWER YOUR QUESTION?

We're standing by with answers
Whether you're shopping for appliances or have questions about those you already own, we've got the resources you need. Talk directly to a customer care expert at the Sub-Zero, Wolf, and Cove service center, or connect with an appliance consultant at an official showroom near you. Get quick answers online, or reach a certified service provider or installer. And much more.
Call us at (800) 222-7820