Skip to main content
Gas Range Lower Front Panel Removal
Topics:
Can the lower front stainless steel panel be removed on the R Series Gas Range to clean underneath the unit?
How to remove the front skirt on an R Series Gas Range for cleaning
Answer:
The lower front panel can be removed in order to clean under the Gas Range.
It is best to use a vacuum cleaner with an extension hose to reach further underneath the range.
The lower front panel has notches at the inner end flanges that fit up under screw heads. Screws are inserted through the top flanges at each end to hold the panel in place, as shown below.
Refer to the product Use and Care Guide for further information.
To remove the lower front panel:
GR Gas Range Models

With oven door(s) closed, remove screws from the top flanges.
Let panel drop slightly while rotating top of panel forward.

R Gas Range Models

Remove the mounting screws from the right and left corners of the panel.
Pull the panel forward.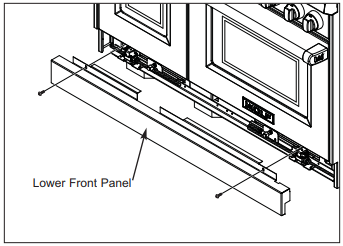 If these steps do not resolve the issue, no further troubleshooting advice is available. Contact Factory Certified Service to schedule an appointment for repair.
DID THIS ANSWER YOUR QUESTION?

We're standing by with answers
Whether you're shopping for appliances or have questions about those you already own, we've got the resources you need. Talk directly to a customer care expert at the Sub-Zero, Wolf, and Cove service center, or connect with an appliance consultant at an official showroom near you. Get quick answers online, or reach a certified service provider or installer. And much more.
Call us at (800) 222-7820