Skip to main content
Sealed Burner Rangetop French Top
Topics:
How to season SRT Rangetop French top
SRT Rangetop French top operation
The French top is a graduated cooking surface with the highest temperature under the center plate. Always use cookware, do not cook food directly on the surface. For higher cooking heat, place cookware closer to the center and for lower heat, closer to the edges. Refer to the illustration below.
To protect the surface from food splatters and moisture, it is necessary to "season" the French top prior to use.
The French top has a protective coating that must be removed before use. Use hot water and mild detergent to remove. Rinse and dry.
Turn on ventilation.
Push and turn the control knob counterclockwise to HI and heat for 30 minutes. After 30 minutes, turn the knob to OFF and allow the surface to cool.
While the surface is slightly warm, pour a small amount of peanut or vegetable oil on a paper towel and spread evenly. Once cool, wipe off any excess oil.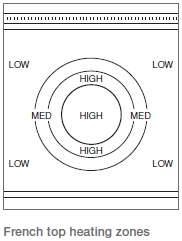 The stainless steel cover must be removed prior to operation.
Turn on ventilation.
Push and turn the control knob counterclockwise to HI. the ignitor clicks until the burner is lit.
Allow the French top to preheat for 30 minutes.
The French top burner is below the center plate. To remove, use the center plate hook (provided with the rangetop) as shown in the illustration below. Never remove the center plate while cooking.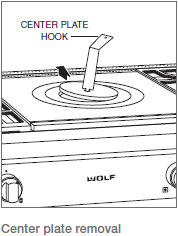 DID THIS ANSWER YOUR QUESTION?

We're standing by with answers
Whether you're shopping for appliances or have questions about those you already own, we've got the resources you need. Talk directly to a customer care expert at the Sub-Zero, Wolf, and Cove service center, or connect with an appliance consultant at an official showroom near you. Get quick answers online, or reach a certified service provider or installer. And much more.
Call us at (800) 222-7820