Boyse Residence
Regional Award Winner KDC 2013-14
As much as we believe in the importance of appliances, when it comes to kitchen renovation, it's all about the floor plan. While this older home had plenty of square footage to work with, it was filled with a multitude of rooms, with little flow between them. The homeowners wanted a plan that was open, inviting, revitalizing—but within the existing footprint, with no additions that would disrupt the exterior architectural integrity of the home.
In her first visit to the home, designer Jennifer Diehl saw plenty of opportunities for a transformation. In particular, the existing dining room had a windowed, light-filled alcove that would be the perfect starting point for a new kitchen. The clever design of the cabinetry on this wall is just one of the things that makes this kitchen such a breath of fresh air. There is a wonderful symmetry between the range wall, the central island, the coffee bar area and the built-in refrigerator wall. The KDC judges gave a nod to another unique feature: "The working pantry and how it connects to the kitchen is genius." A recessed ceiling adds to the light, airy feel of the space.
Truly, this is a kitchen that has everything a modern homeowner is looking for. While it is the centerpiece of the renovation, Jennifer has transformed the rest of the house as well, even creating a unique office space off the kitchen whose unique entry is through reclaimed wooden barn doors.
This Great Lakes beauty is a classic example of how an imaginative floor plan and detailing can bring wonderful new life to even the most tired home, and create excitement among homeowners and KDC judges alike.
In this kitchen
Shop the products featured in this kitchen.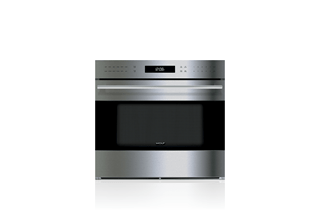 Similar kitchens
Explore other kitchens with similar styles.