36" Ceiling-Mounted Hood - Stainless Steel
Model # VC36S
MSRP $2,115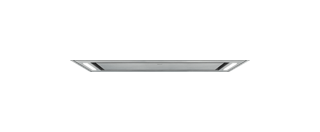 Pinch to zoom
Images are for reference only.
Breathe cleaner air and enjoy less greasy residue in your kitchen
Opt for the look of contemporary concealed ventilation
Adjust as needed with recessed controls and an ADA compliant remote control that provide a sleeker look, yet maintain ultimate blower control
Matches the same heavy-duty stainless-steel construction, hand-finished hemmed edges, and welded seams of all Sub-Zero, Wolf, and Cove products
Select from internal, in-line, or remote blower options  (blower required)
Lights your workspace with two LED light bars with two brightness settings
Minimizes the backward flow of cold air with backdraft transition
Read more
600 CFM Internal
600 CFM Inline
600 CFM Remote
1200 CFM Remote
Overall Dimensions: 35 1/2" W x 12 1/4" H x 21" D
Bottom of Hood to Countertop: 36" to 84"
Number of LED Lights: 2
Shipping Weight: 61 lbs
About Sub-Zero, Wolf, and Cove
Wolf Products
Envision the possibilities
Pro tips
Considerations before you finalize your decision:
Blowers required, HVAC professionals can assist with what you need
Request a brochure
Let's talk
Prefer to discuss the features of Wolf appliances with an expert?
Call us at (800) 222-7820

Visit a showroom
See the complete line of Wolf appliances at your nearest Sub-Zero, Wolf, and Cove showroom.
Earn three additional years of protection with a qualifying Sub-Zero and Wolf appliance package.
Make your dream kitchen a reality—visit our booth at the Architectural Digest Design Show, June 25–28 in New York City.
Certified installation
Earn an extra full year of warranty coverage and ensure a flawless fit with Factory Certified Installation.