48" Dual Fuel Range - 8 Burners
Model # DF48850/S/P
MSRP $15,380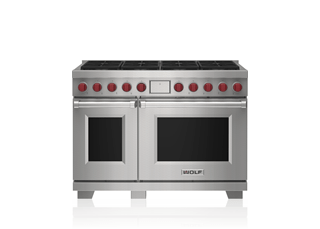 pinch-to-zoom
images-for-reference
Patented dual-stacked, sealed burners precise high-to-low temperature control and a spark ignition system that reignites the burner automatically
Wolf's Dual VertiFlow™ convection system provides reliably even heat, reduces hot and cold spots, and enables consistent multi-rack cooking
Gourmet Mode features nearly 50 presets that automatically control the oven to ensure delicious results
Take the guesswork out of cooking with 10 chef-created cooking modes, including Bake, Broil, Convection, Convection Roast, Dehydrate, Gourmet, Proof, Roast, Stone, and Warm
Eight dual-stacked burners produce up to 20,000 Btu for fast boils and intense sears and 300 Btu for true simmers and melts
For improved temperature control and safety, the spark ignition system reignites burners automatically
The full-color touchscreen is intuitive and easy to read, discreetly hiding away when not in use
LED backlit control bezels illuminate when in use, indicating which burners are active
The oven offers self-clean, delayed start, timed cook, and Sabbath features
The temperature probe alerts you when your dish has reached the desired temperature
The oven's Wi-Fi enabled feature lets you remotely preheat, select modes, and adjust oven temperature from your mobile device
Create a cohesive look in your kitchen with the range's stainless construction, pro-style handles, and choice of iconic red, black, brushed stainless, brushed brass, or brushed grey knobs
read-more-label-product-features
1 - 9,200 Btu burner
3 - 15,000 Btu burners
3 - 18,000 Btu burners
1 - 20,000 Btu burner
Stainless-steel island trim
One standard rack and two full-extension ball-bearing racks in 30" oven
One standard rack and one full-extension ball-bearing rack in 18" oven
Three halogen lights in the 30" oven
Two halogen lights in the 18" oven
Temperature probe
Broiler pan and rack
Porcelain is made from natural products and, therefore, can chip or develop fine lines and cracks due to the expansion and contraction that occurs as oven temperature fluctuates (particularly when the self-cleaning function is employed). This can result in cosmetic imperfections, such as a cloudy, dull or scratched appearance. Cosmetic imperfections may be more visible in a colored oven cavity.
overall-dimensions-w-h-d
oven-1-interior-dimensions-w-h-d
oven-2-interior-dimensions-w-h-d
oven-1-usable-capacity 1.8 cubic feet
oven-1-overall-capacity 2.7 cubic feet
oven-2-usable-capacity 3.2 cubic feet
oven-2-overall-capacity 5.1 cubic feet
door-clearance 21"
star-k-certified
shipping-weight-var 657 lbs
Express your style
Choose from 10 knob and bezel combinations, and doors in three finishes, to fit your overall aesthetic and coordinate with other kitchen accents
Envision the possibilities
Pro tips
Considerations before you finalize your decision:
Consider adding proper ventilation above your range to remove smoke, grease, and odor
Personalize your range with your choice of red, black, brushed stainless, brushed gray, or brushed brass knobs
Determine if you'd like to purchase a bake stone accessory for better-than-delivery pizzas
Add attractive, practical stainless steel risers that act like a backsplash to prevent food splatters and create a thermal barrier for combustible surfaces
Let's talk
Prefer to discuss the features of Wolf appliances with an expert?
Call us at (800) 222-7820

Experience a showroom
A visit—in person or virtually—to your nearest showroom is the ideal way to see and experience the complete line of Wolf appliances.
For a limited time, earn three additional years of protection or a rebate up to $2,500 with the purchase of a qualifying Sub-Zero, Wolf, and Cove appliance package.
Download the Sub-Zero Group Owner's App to ensure optimal performance and for added peace of mind and convenience.
Certified installation
Earn an extra full year of warranty coverage and ensure a flawless fit with Factory Certified Installation.