48" Gas Range - 4 Burners and Infrared Dual Griddle
Model # GR484DG
MSRP $12,390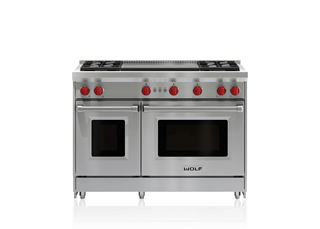 Pinch to zoom
Images are for reference only.
Control temperature precisely with four dual-stacked, sealed gas burners for higher highs, lower lows
Rely on a double 30,000 Btu infrared double griddle to sear burgers, stir-fry vegetables, and more
Enjoy quicker heat and more even cooking with this large capacity gas convection oven
Multi-task with an additional 18" oven.
Clean up sloshes and spills easily with the seamless, sealed, black porcelain-coated burner pans
Produce crisper crusts and faster sears with the powerful infrared interior broiler
Re-ignites flame automatically with our spark ignition system for improved temperature control and added safety
Move pots and pans easily across continuous cast-iron grates
Find your kitchen style with a choice of iconic red, black, or brushed stainless control knobs
Read more
GR484DG $12,390
GR484DG-LP $12,390
1 - 9,200 Btu burner
3 - 15,000 Btu burners
1 - 30,000 Btu (26,000 Btu LP) Double-wide Griddle
Two standard racks, one full-extension ball bearing rack in 30" oven
One standard rack and one full-extension ball bearing rack in 18" oven
30,000 Btu oven burner
18,000 Btu oven broiler
Broiler pan and rack
One halogen light
Stainless-steel island trim riser included
Stainless-steel griddle cover
Overall Dimensions: 47 7/8" W x 37" H x 28 3/8" D
Oven 1 Interior Dimensions:
13 1/2" W x 18 5/8" H x 17" D
Oven 2 Interior Dimensions:
24" W x 18 5/8" H x 17" D
Oven 1 Usable Capacity: 1.6 cubic feet
Oven 1 Overall Capacity: 2.5 cubic feet
Oven 2 Usable Capacity: 2.9 cubic feet
Oven 2 Overall Capacity: 4.4 cubic feet
Door Clearance: 19 1/2"
Star-K Certified
Shipping Weight: 679 lbs
Receptacle: 3-prong grounding-type
About Sub-Zero, Wolf, and Cove
Wolf Use & Care
Wolf Products
High altitude conversion kits available
Envision the possibilities
Pro tips
Considerations before you finalize your decision:
Personalize your range with choice of iconic red, black, or brushed stainless control knobs
Determine if you'd like to add a bake stone for better-than-delivery (and faster) pizzas
Purchase accessory bezels and grates like Wok grate, S grates, brass or chrome bezels to personalize the look
Add attractive, practical stainless steel risers that act like a backsplash to prevent food splatters and create a thermal barrier for combustible surfaces
Request a brochure
Let's talk
Prefer to discuss the features of Wolf appliances with an expert?
Call us at (800) 222-7820

Visit a showroom
See the complete line of Wolf appliances at your nearest Sub-Zero, Wolf, and Cove showroom.
Earn three additional years of protection with a qualifying Sub-Zero and Wolf appliance package.
Make your dream kitchen a reality—visit our booth at the Architectural Digest Design Show, June 25–28 in New York City.
Certified installation
Earn an extra full year of warranty coverage and ensure a flawless fit with Factory Certified Installation.