60" Gas Range - 6 Burners and Infrared Dual Griddle
Model # GR606DG
MSRP $14,725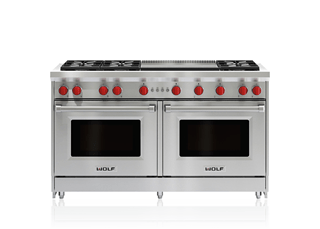 Pinch to zoom
Images are for reference only.
Control temperature precisely with six dual-stacked, sealed gas burners for higher highs, lower lows
Rely on a double 30,000 Btu infrared double griddle to sear burgers, stir-fry vegetables, and more
Enjoy quicker heat and more even cooking with this large capacity gas convection oven
Multi-task with an additional 30" oven
Clean up sloshes and spills easily with the seamless, sealed, black porcelain-coated burner pans
Produce crisper crusts and faster sears with the powerful infrared interior broiler
Re-ignites flame automatically with our spark ignition system for improved temperature control and added safety
Move pots and pans easily across continuous cast-iron grates
Find your kitchen style with a choice of iconic red, black, or brushed stainless control knobs
See all features
GR606DG $14,725
GR606DG-LP $14,725
1 - 9,200 Btu burner
5 - 15,000 Btu burners
1 - 30,000 Btu Double Griddle
Two standard racks, one full-extension ball bearing rack per oven
30,000 Btu oven burner
18,000 Btu oven broiler
Broiler pan and rack
One halogen light
Stainless-steel charbroiler and griddle covers
Porcelain is made from natural products and, therefore, can chip or develop fine lines and cracks due to the expansion and contraction that occurs as oven temperature fluctuates (particularly when the self-cleaning function is employed). This can result in cosmetic imperfections, such as a cloudy, dull or scratched appearance. Cosmetic imperfections may be more visible in a colored oven cavity.
Overall Dimensions: 60 1/8" W x 37" H x 28 3/8" D
Oven 1 Interior Dimensions:
24" W x 18 5/8" H x 17" D
Oven 2 Interior Dimensions:
24" W x 18 5/8" H x 17" D
Oven 1 Usable Capacity: 2.9 cubic feet
Oven 1 Overall Capacity: 4.4 cubic feet
Oven 2 Usable Capacity: 2.9 cubic feet
Oven 2 Overall Capacity: 4.4 cubic feet
Door Clearance: 19 1/2"
Star-K Certified
Shipping Weight: 810 lbs
Receptacle: 3-prong grounding-type
About Sub-Zero, Wolf, and Cove
Wolf Use & Care
Wolf Products
High altitude conversion kits available
Envision the possibilities
Pro tips
Considerations before you finalize your decision:
Personalize your range with choice of iconic red, black, or brushed stainless control knobs
Determine if you'd like to add a bake stone for better-than-delivery (and faster) pizzas
Purchase accessory bezels and grates like Wok grate, S grates, brass or chrome bezels to personalize the look
Add attractive, practical stainless steel risers that act like a backsplash to prevent food splatters and create a thermal barrier for combustible surfaces
Need help with your appliance, or just shopping?
Either way, we've got you covered.

Get support
Need help with your appliance? Talk with our Customer Care team. Receive problem-solving assistance, gain use and care advice, and get help finding a trusted service professional.

(800) 222-7820
Learn about our products
Shopping for appliances? Talk with a product specialist today. Get your questions answered, learn about features and options, next steps and gain expert advice.

(800) 444-7820
Experience a showroom
A visit—in person or virtually—to your nearest showroom is the ideal way to see and experience the complete line of Wolf appliances.
For a limited time, when you purchase a qualifying Wolf appliance, add selected Sub-Zero appliances to earn three additional years of warranty protection or a $1,000 rebate.
Custom cycle options, adjustable interiors, customizable exterior finishes, and near-silent operation ensure spotless results—every time.
Certified installation
Earn an extra full year of warranty coverage and ensure a flawless fit with Factory Certified Installation.