30" Classic Over-and-Under Refrigerator/Freezer with Glass Door
Formerly "Built-In"
Model # BI-30UG/S
MSRP $12,175 - $12,790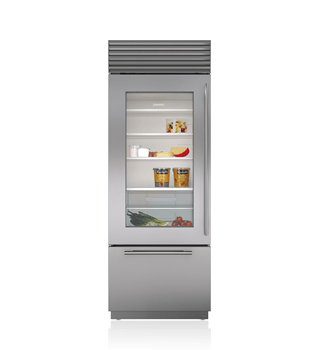 Pinch to zoom
Images are for reference only.
Monitor and control remotely with Wi-Fi connectivity
Preserves refrigerated foods with cool, moist air and frozen foods with frigid, dry air
Fight spoilage and odors with a NASA-inspired air purification system
Locks in cold air to ensure freshness with magnetic door seals
Keeps produce fresher with high-humidity, sealed crisper and deli drawers
Controls temperature within one degree of setpoint
Filters ice, removing contaminants, chlorine taste, and odor
Yields ice automatically and "max ice" for additional production
Display food via a single, triple-pane and UV-resistant glass door
Ensures excellent visibility with bright lights
Refer to freshness cards for tips on food preservation, use, and care
See all features
Left Hinge: BI-30UG/S/PH-LH $12,790
Right Hinge: BI-30UG/S/PH-RH $12,790
Left Hinge: BI-30UG/S/TH-LH $12,790
Right Hinge: BI-30UG/S/TH-RH $12,790
Left Hinge: BI-30UA/S/PH-LH $12,175
Right Hinge: BI-30UA/S/PH-RH $12,175
Left Hinge: BI-30UA/S/TH-LH $12,175
Right Hinge: BI-30UA/S/TH-RH $12,175
MSRP Listed. Local pricing may vary.
Contact your local showroom or dealer for pricing
.
Refrigerator Specifications
4 glass refrigerator shelves (3 adjustable; 1 stationary)
1 high-humidity crisper drawer with adjustable dividers
1 deli drawer with adjustable dividers
1 adjustable dairy compartment
LED refrigerator and freezer lights
Freezer Specifications
1 full-extension roll-out freezer drawer
Automatic ice maker with removable ice container
Overall Dimensions: 30" W x 84" H x 24" D
Refrigerator Capacity: 13.1 cubic feet
Freezer Capacity: 4.2 cubic feet
Door Clearance: >31 1/4"
Drawer Clearance: 23 5/8"
Star-K Certified
Shipping Weight: 503 lbs
Annual Energy Usage: $73 (612 kWh)
Receptacle: 3-prong grounding-type
Electrical Supply: 115 VAC, 60 Hz
Electrical Service: 15 amp dedicated circuit
Pro tips
Consider these insider suggestions as you design your space:
Install multiple Sub-Zero units together for increased personalization
Select right or left Sub-Zero door hinges to designate how doors swing open
Cover the area between the unit and floor with optional kickplates
Coordinate all of your appliances with Sub-Zero pro, tubular, or custom handles
Let's talk
Prefer to discuss the features of Sub-Zero appliances with an expert?
Call us at (800) 222-7820

Experience a showroom
A visit—in person or virtually—to your nearest showroom is the ideal way to see and experience the complete line of Sub-Zero appliances.
For a limited time, when you purchase a qualifying Sub-Zero appliance, add select Wolf appliances to earn three additional years of protection or a $1,000 rebate.
Custom cycle options, adjustable interiors, customizable exterior finishes, and near-silent operation ensure spotless results—every time.
Certified installation
Earn an extra full year of warranty coverage and ensure a flawless fit with Factory Certified Installation.