36" Contemporary Electric Cooktop
Model # CE365C/B
MSRP $2,425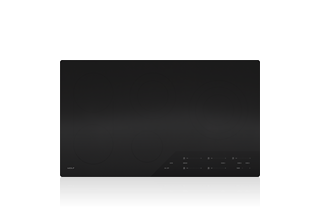 Pinch to zoom
Images are for reference only.
Accommodates different pans sizes easily due to two elements and three zones  
Controls performance with high-frequency pulsation technology  
Revel in a true simmer setting for soups, sauces, and more  
Set it super-low for fine chocolate and other delicate foods 
Install flush against counter for a clean contemporary design
Offers both True Simmer and Melt settings
Cleanup is a snap with the black ceramic glass surface
See all features
Unframed edge for flush installation
Black glass ceramic surface
Triple-zone, dual zone and bridge-zone elements
True simmer and melt settings
1 - 1,050/1,950/2,700 W element
1 - 700/2,200 W element
1 - 1,200 W element
2 - 1,800 W elements with bridge
Overall Dimensions: 36" W x 4" H x 21" D
Element Diameter: 10.5", 8", 5.5", 7"
Star-K Certified
Electrical Supply: 3-wire, 240 VAC, 60 Hz
Electrical Service: 50 amp dedicated circuit
About Sub-Zero, Wolf, and Cove
Wolf Use & Care
Wolf Products
Envision the possibilities
Pro tips
Considerations before you finalize your decision:
Need help with your appliance, or just shopping?
Either way, we've got you covered.

Get support
Need help with your appliance? Talk with our Customer Care team. Receive problem-solving assistance, gain use and care advice, and get help finding a trusted service professional.

(800) 222-7820
Learn about our products
Shopping for appliances? Talk with a product specialist today. Get your questions answered, learn about features and options, next steps and gain expert advice.

(800) 444-7820
Experience a showroom
A visit—in person or virtually—to your nearest showroom is the ideal way to see and experience the complete line of Wolf appliances.
For a limited time, when you purchase a qualifying Wolf appliance, add selected Sub-Zero appliances to earn three additional years of warranty protection or a $1,000 rebate.
Custom cycle options, adjustable interiors, customizable exterior finishes, and near-silent operation ensure spotless results—every time.
Certified installation
Earn an extra full year of warranty coverage and ensure a flawless fit with Factory Certified Installation.