Skip to main content
648PRO Stainless Steel Kickplate Kit
Topics:
Part number 0000055
Instruction sheet 7006506
List of components included
How to install a 648PRO kickplate
Is a kickplate kit available for the front and sides of a 648PRO in a freestanding application
Front and side stainless steel kickplates kit, part # 0000055, is offered as a sales accessory.
The standard kickplate provided with the unit is black.
The stainless steel kickplate is 36" W x 3-1/2" H.
Front kickplate installation:
Remove existing kickplate, and remove kickplate mounting L-brackets from both unit bases.
Attach side bracket kickplate supports in place of kickplate mounting L-brackets just removed.

Kit includes two kickplate supports to replace the L-brackets that are removed from each side of the unit base.

Attach new front kickplate to side bracket kickplate supports.
Unit base side panel installation:

NOTE: The unit base side panels can be used if the unit is freestanding or has at least one side exposed.
Use dual lock fasteners (2 per side) to attach side panel to side of unit bases. Dual lock fasteners are industrial strength Velcro.
Picture of 648PRO with Stainless Steel Kickplate Installed: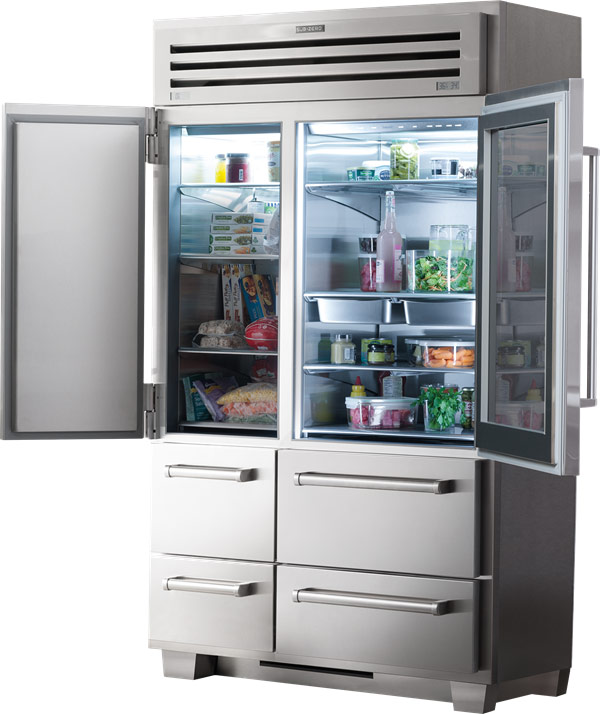 DID THIS ANSWER YOUR QUESTION?

We're standing by with answers
Whether you're shopping for appliances or have questions about those you already own, we've got the resources you need. Talk directly to a customer care expert at the Sub-Zero, Wolf, and Cove service center, or connect with an appliance consultant at an official showroom near you. Get quick answers online, or reach a certified service provider or installer. And much more.
Call us at (800) 222-7820