Skip to main content
Sub-Zero Classic Series (BI) Light Switch Replacement
Topics:
How to replace a light switch in a Classic (BI) unit
BI light switch part number
Instructions for light switch replacement in a BI unit
Troubleshooting:
The Classic (BI) door switch is found at the top rear of the top cabinet frame.
The switch actuator protrudes through a hole in the front of the cabinet frame.
A series of tabs and pegs hold the door switch in place.
The Classic series door switch part number is 7007259.
To remove a door switch:
Open the grille at the top of the unit.
Disconnect the switch electrical leads using a needle-nose pliers to pull the electrical lead housings away from the switch. Refer to the image of the leads below.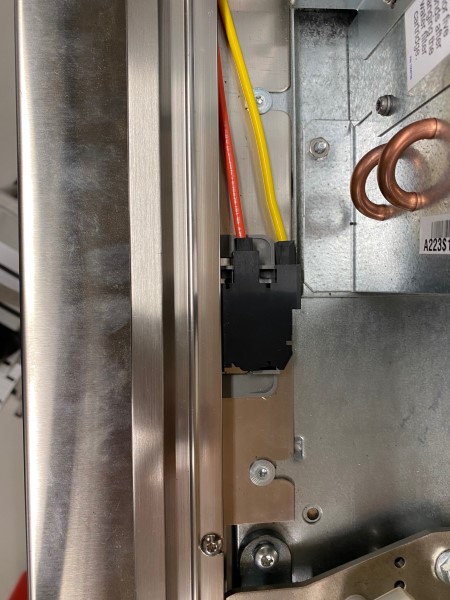 Use a small flat-blade screwdriver to pry the front retaining tab at each side of the switch back while lifting that side of the switch up. Refer to the image below.
Repeat step 3 on each side of the switch.
Pull switch back and lift from the top cabinet frame.
Reverse procedure to install.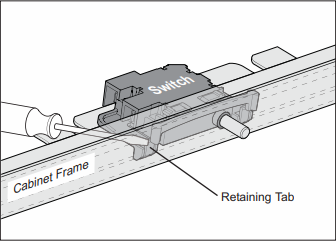 Contact a Factory Certified Parts Distributor to order parts.
Answer:
If these troubleshooting steps do not resolve the issue, service is necessary to expertly diagnose and repair the product. Contact Factory Certified Service to schedule an appointment for repair.
DID THIS ANSWER YOUR QUESTION?

We're standing by with answers
Whether you're shopping for appliances or have questions about those you already own, we've got the resources you need. Talk directly to a customer care expert at the Sub-Zero, Wolf, and Cove service center, or connect with an appliance consultant at an official showroom near you. Get quick answers online, or reach a certified service provider or installer. And much more.
Call us at (800) 222-7820