Skip to main content
Designer Wine Storage (IW) Condenser Cleaning
Topics:
How do you clean the condenser?
"Service" is flashing
Sub-Zero Designer (formerly Integrated) Wine Storage running constantly or not cooling
Is there a chemical cleaner or degreaser that can be used to clean the condenser?
Can the screen cage in front of the condenser be removed?
How do you remove the filter screen blocking the condenser?
Answer:
Clean the condenser every six to twelve months. Failure to clean the condenser could result in temperature loss or mechanical failure or damage.
If further instruction is needed, use these instructions to clean the condenser:
Address any Error Codes messages on the control panel display first. Search for information about the specific error to resolve it.
Press POWER on the control panel to turn the unit off.

Remove the louvered kickplate.

For Column models, open the door to access the kickplate.
Remove the lower drawer of Designer Tall unit for more room if necessary.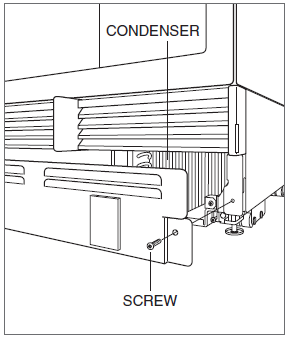 Use a soft bristle brush attachment and vacuum to remove dust and lint from the condenser area.

A paint brush, air compressor on a low setting, or a can of compressed air also work to clean the condenser.
Condenser cleaning chemicals and degreaser are available from several suppliers and online. They are not necessary to clean a Sub-Zero condenser and are not recommended by Sub-Zero.
If there is a build-up of dust or debris behind the screen that the vacuum does not reach, use an air compressor on a low setting or a can of compressed air to blow the condenser clean.

Turn the unit on and monitor temperatures. It may take up to 24 hours for temperatures to return to normal after condenser cleaning.
For additional information, refer to:
If these steps do not resolve the issue, no further troubleshooting advice is available. Contact Factory Certified Service to schedule an appointment for repair. Share any service indicators and current temperatures with the service company.
DID THIS ANSWER YOUR QUESTION?

We're standing by with answers
Whether you're shopping for appliances or have questions about those you already own, we've got the resources you need. Talk directly to a customer care expert at the Sub-Zero, Wolf, and Cove service center, or connect with an appliance consultant at an official showroom near you. Get quick answers online, or reach a certified service provider or installer. And much more.
Call us at (800) 222-7820