Skip to main content
Wolf EC24 Coffee System Infuser Cleaning and Removal
Topics:
Remove jammed infuser
Infuser difficult to remove
Clean EC24 Coffee System infuser
Infuser locked
Coffee grounds in bottom of cup
Answer:
If the master power switch turned the unit off, then the infuser will stay locked.
The unit needs to go through a shutdown process, which unlocks the infuser.
Going straight to the master switch to turn the unit off will bypass the normal shutdown process and the infuser will stay stuck.
The tray and grounds container must be in place for the shutdown process to proceed.
To power down, press the ON/OFF button in front. Do not turn off the master switch on the side.
To remove and clean the infuser:
Turn unit off.
Open service door and remove drip tray and grounds container as shown.
Press two red buttons on infuser inward, as shown below, and remove infuser.

If the infuser is jammed, wiggle the infuser, push up, and remove.

Soak in water approximately 5 minutes, then rinse and towel dry. Do not use detergent, as this can remove lubricant on interior parts.

Do not use vinegar as this may also harm interior parts.

Replace by sliding infuser onto internal support and bottom pin.
Press "PUSH" until it clicks into place. Verify red buttons have pressed out.
Infuser: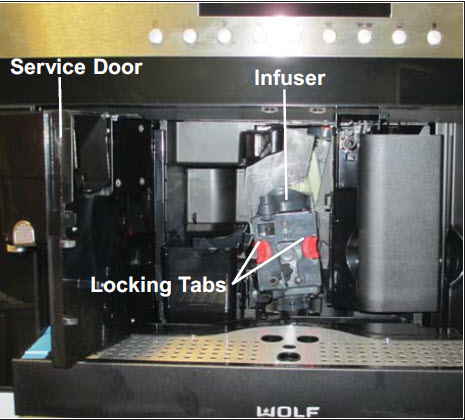 If these steps do not resolve the issue, no further troubleshooting advice is available. Contact
Factory Certified Service
to schedule an appointment for repair.
DID THIS ANSWER YOUR QUESTION?

We're standing by with answers
Whether you're shopping for appliances or have questions about those you already own, we've got the resources you need. Talk directly to a customer care expert at the Sub-Zero, Wolf, and Cove service center, or connect with an appliance consultant at an official showroom near you. Get quick answers online, or reach a certified service provider or installer. And much more.
Call us at (800) 222-7820