Skip to main content
Wolf French Top Cleaning Instructions
Topics:
French top is discolored
How do you clean the French top?
What is the best way to remove stains from the French top?
What products can be used on the French top?
How are the rear spacers and cover installed?
Answer:
Wolf recommends cleaning the entire French top surface after each use while slightly warm, follow these steps:
Wipe with mild detergent and water.
Rinse and dry.
Reapply a small amount of peanut or vegetable oil on a paper towel and spread evenly to protect surface from oxidation.
For stubborn stains, use the Scotch-Brite™ pad with a mild abrasive.
Light scratches may occur with the use of your Scotch-Brite™ pad, this is normal.

This will not remove the "bluing" of the concentric rings, this is normal.

White vinegar and water can be helpful for the removal of stubborn stains and discoloring of the French top surface.
If oxidation or rust appears on the French top surface, simply clean it off with a fine grade steel wool.
Discoloration of the French top surface is normal. Blue discoloration is permanent.
The rear spacer lays in back of the French top plate and the cover lays on top of the French top plate.
The French top burner is below the center plate. To remove the center plate, use the center plate hook supplied with the range as shown in the illustration. Never remove the center plate while cooking.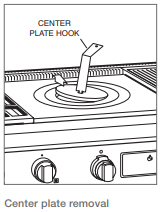 DID THIS ANSWER YOUR QUESTION?

We're standing by with answers
Whether you're shopping for appliances or have questions about those you already own, we've got the resources you need. Talk directly to a customer care expert at the Sub-Zero, Wolf, and Cove service center, or connect with an appliance consultant at an official showroom near you. Get quick answers online, or reach a certified service provider or installer. And much more.
Call us at (800) 222-7820