Skip to main content
GR Gas Range, Legacy Dual Fuel Range, or Sealed Burner Rangetop Knob Sticks
Topics:
GR Gas Range, Legacy Dual Fuel Range, or Sealed Burner Rangetop (SRT) knob sticks when turned
Hard to turn the knob on a GR Gas Range, Legacy Dual Fuel Range, or SRT
How to adjust a hard to turn knob
Troubleshooting: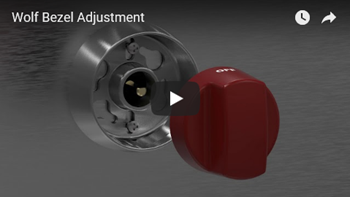 If a control knob sticks, remove the knob.
Slightly loosen the two bezel screws on the unit with a Phillips head screwdriver.
Adjust the bezel a little at a time to align it properly.
Tighten the screws and reinstall knob.
If these steps do not resolve the issue, no further troubleshooting advice is available. Contact Factory Certified Service to schedule an appointment for repair.
DID THIS ANSWER YOUR QUESTION?

We're standing by with answers
Whether you're shopping for appliances or have questions about those you already own, we've got the resources you need. Talk directly to a customer care expert at the Sub-Zero, Wolf, and Cove service center, or connect with an appliance consultant at an official showroom near you. Get quick answers online, or reach a certified service provider or installer. And much more.
Call us at (800) 222-7820