Skip to main content
Topics:
When was the bridge added to the Wolf Electric Cooktop?
How to use the bridge element
What burners are in use when the bridge element is turned on?
How to turn off the bridge element burner
Answer:
The bridge-zone element provides an oblong heating area for use with a griddle, open roaster, or fish poacher. To turn on the bridge-zone heating element:
Touch the OFF ON touch pad of either control that corresponds with the bridge-zone element.
Set the heat setting for either the front or rear element.
Touch BRIDGE.

The bridge element and the element that was not turned on will both be set to the same heat setting as the first element.
Lights will stay on under the front, rear, and bridge element touch pads to indicate that the entire bridge-zone element is on.
Changing the heat setting of the entire bridge-zone element is done the same as for a single element. All three elements maintain the same heat setting.

Touch BRIDGE again to turn off the bridge element. The light under the bridge element touch pad will go out. The front and rear elements will stay at the current heat setting and will become independent of one another.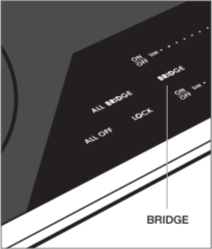 DID THIS ANSWER YOUR QUESTION?

We're standing by with answers
Whether you're shopping for appliances or have questions about those you already own, we've got the resources you need. Talk directly to a customer care expert at the Sub-Zero, Wolf, and Cove service center, or connect with an appliance consultant at an official showroom near you. Get quick answers online, or reach a certified service provider or installer. And much more.
Call us at (800) 222-7820