23rd Street Apartment
2015-2016 KDC Finalist
In the before photo of this 23rd Street loft apartment in Manhattan, the kitchen is narrow. Cramped. Dark, and cluttered. As much kitchenware seems to be stored on top of the cabinets as in the cabinets. We like golf, but keeping your clubs a few feet from the refrigerator and gas range is not ideal.
After going through many finish choices with the owner, Cinzia finally convinced him that a light, subdued color palette was his best choice. Along with the skylight and single window, it would bring a bright, soothing feel to the kitchen and give it a seamless, contemporary look. The beautiful Sub-Zero refrigerator with its stainless steel finish added additional lightness and pleased the client with his desire for a "man's kitchen." To solve the clutter problem, Cinzia designed a kitchen with an outside corner, which hid the washer and dryer, created a much-needed pantry, and led the way to a tall unit to house the double ovens. Once inside the kitchen proper, a series of upper cabinets that reached almost to the ceiling was connected to the tall units. Taking advantage of a long jog in the opposite wall, a shallow glass pantry space, almost 50" wide, was created. Finally, there would be ample storage space and no place for clutter to accumulate.
The appliances integrated beautifully into the new design: Sub-Zero refrigerator, Wolf 30" M series oven and 30" convection steam oven, Wolf 36" gas cooktop. Everything is within easy reach of the cook, so preparing meals and serving guests is a genuine pleasure. An unexpected bonus in the new design is a charming little eat-in area, perfect for its single owner to enjoy a sunny breakfast in the morning. That such a pleasant perk could even be imagined in this narrow space is, again, a tribute to the vision of Cinzia and Larisa – and really, to that of kitchen designers in general. The owner is ecstatic with his new kitchen, which enriches his life and adds significant value to his apartment. But we now wonder, where does he keep his golf clubs?
In this kitchen
Shop the products featured in this kitchen.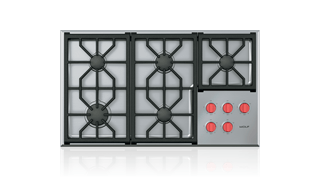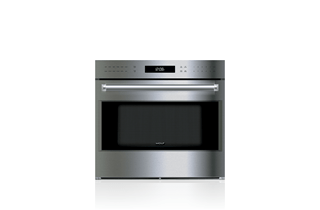 Similar kitchens
Explore other kitchens with similar styles.