Armadale House
3rd Place Contemporary Award KDC 2017-18
As with all Chris Connell designs, the idea for this modern kitchen addition to an existing Victorian-era house started with a simple sketch. The client, a professional chef, needed the space to act as more than just a household kitchen, but also as a filming location for cooking programs. Knowing that the space would host a diverse variety of people and functions—from family dinners, to parties and entertaining, to television production—Connell focused on maximizing functionality in both the design and appliances.
The appliances were specifically selected by the client for their quality, robustness, and versatility. Breaking from the popular trend of concealing refrigeration within cabinetry, Connell designated the two refrigerators as the focal point of the design, harkening to its prominence in the mid-century kitchen. He uses stainless steel and bare concrete to create a bold and industrial feel, balancing the clean lines with the subtle visual texture in the oak cabinetry and marble countertops. Black elements punctuate the light, neutral scheme. Connell is adept at integrating innovative features that dually aid with filming tasks as well as day-to-day domestic demands. Natural light, through the expansive skylight and full-height windows, support both overall wellbeing and the sophisticated look it provides for television production. To obtain wide-angle camera shots, the windows pivot open, and the concrete apron enables use of a dolly for smooth camera movements. On non-shoot days, the windows and apron seamlessly unite the indoor and outdoor space. Finally, the two islands provide ample space for preparation and demonstration—no matter who or what is cooking.
In this kitchen
Shop the products featured in this kitchen.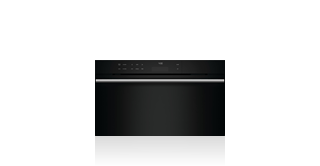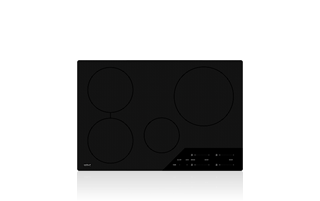 Similar kitchens
Explore other kitchens with similar styles.