Brazilian Transitional
2015-2016 KDC Finalist
Designer Matthew Quinn knew he could create a beautiful, functional kitchen for his client, a passionate Brazilian woman who loved to cook. But could he design a space that captured her soul?
"I often talk about how I can go into a person's closet and discover their level of comfort with color," says Matthew, "as well as their level of formality. Here I accomplished the same thing by taking stock of my client's dishes. She had some gorgeous gold wedding china, while everything else was either all white or crystal, so I used that for my inspiration." In this whole house renovation, the architects had done a great job of locating the kitchen, so there were no walls to move. A designer had established a soothing and textural color palette in the rest of the house, with the selection of the wood and porcelain flooring, architectural hardware, and window and wall colors. Now it was up to Matthew to create a kitchen that would be not only a perfect environment for a resourceful cook, but also one that reflected her unique personality and sense of style. She was very specific about her cooking needs, right down to what kind and how many dishes she likes to keep close at hand, and what kind of spice containers she uses, so the right kind of storage was essential. The typical set-up of wall and floor cabinets seemed too commonplace. Matthew wanted something that would make a powerful, indelible impression. Instead of wall cabinets, he proposed a pair of storage columns nine feet tall, on opposite ends of a Wolf rangetop wall with a marble backsplash fully 12 feet wide –a grander backsplash than most of us have seen. Along with the white painted hood, the design has the desired show stopping effect, and the high columns provide far more usable storage than wall cabinets, with twice the depth.
Opposite the rangetop, a 12-foot island with sink creates enough prep space for multiple cooks to work shoulder to shoulder, and conveniently contains a Sub-Zero wine storage unit, and Wolf microwave oven and warming drawer. The opposite wall contains a 36-inch Sub-Zero refrigerator and 36-inch Sub-Zero freezer: "I typically like to use integrated refrigeration, but in this case, paneled built-in refrigeration represents a significant savings, and helped keep the project on budget." He took the paneling beyond the Sub-Zero specs by covering what would have been exposed grilles with taller doors. To the left of the rangetop wall is the entry to a back pantry, with a continuous countertop on one side for small appliances, opposite a wall containing a Wolf 30" convection oven and 24" convection steam oven.
Again, more prep space and storage for a cook who pulls out all the stops. Harking back to the owner's gold wedding dishes, everywhere in both the kitchen and pantry are echoes of her color preferences: in the gold veins of the backsplash marble and the brass faucets, in the soft gray stain that is a near-perfect match for the porcelain tile, in the island and pantry painted in a color found in the lightest vein of the marble. In the end, the homeowners of Brazilian Transitional paid Matthew the highest compliment he could ever receive for his work. "They told me, this kitchen has given us everything we've ever wanted."
In this kitchen
Shop the products featured in this kitchen.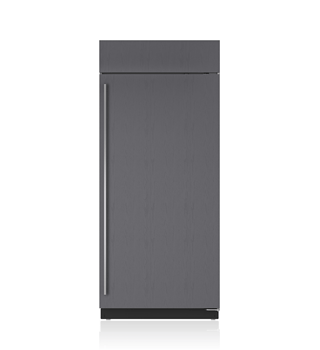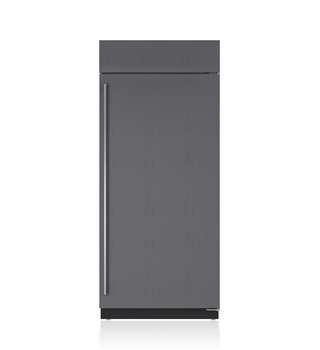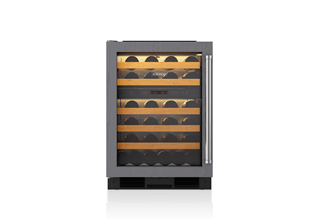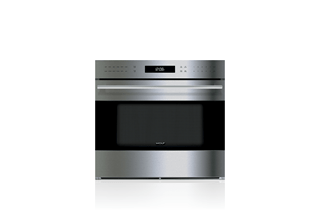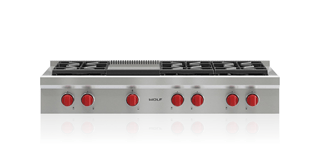 Similar kitchens
Explore other kitchens with similar styles.