Cedar Point Lake Home
2015-2016 KDC Finalist
If you could imagine the perfect lake house, what would it be? It might be very much like the one architects Andrea Swan and Constance Chen along with designer Katie Redpath Constable designed for a family in Minnesota, situated on a narrow peninsula overlooking Wayzata Bay on Lake Minnetonka. The setting is idyllic, a place to enjoy a lifetime of beautiful sunrises and sunsets, and gently lapping waves.
Excited from her first sight of the property, Andrea knew it was imperative that she and her team take every measure possible to optimize views, sun exposure, and circulation between indoor and outdoor spaces. Classic east coast shingle-style was the choice for aesthetic, given the nautical nature of the site and the client's program goals. While the house was the priority, the project reached out to encompass the former butler's house, which was rebuilt to become a boat house and a functional replica of a Nova Scotia lighthouse. The clients love to entertain, so Andrea created both a primary kitchen and a secondary catering kitchen, as well as an outdoor kitchen with 42" Wolf grill and 24" Sub-Zero refrigerator, right next to the large outdoor dining area. Al fresco dining in this setting is something you could never get enough of. The main kitchen is fairly "lean and mean," anchored by a 48" Wolf dual fuel range. The beautiful range and hood composition creates a balance with the fireplace hearth in the lounge, and is well-suited to the family's everyday meal preparation needs.
It is the catering kitchen, naturally, that is equipped to handle prep duties when the family is entertaining large groups. Two Sub-Zero refrigerators, two Wolf ovens and an induction cooktop are just some of the appliances integrated seamlessly into the design. True to the mission of the project, nothing distracts from the breathtaking lake views. The white shiplap boarded cabinetry, oak-topped island, wood flooring and lighting fixtures are elegant yet understated. Points of high usage in the kitchen are designed to position the homeowners in a way
that allows each activity to be framed by a peripheral awareness of the lake. Ultimately, in a house like this, the goal is to promote comfort, relaxation, recreation and fun – moments worth savoring in a truly memorable setting. That is something Andrea and her team have accomplished with smashing success, creating a family compound that will be a rejuvenating retreat for generations to come.
In this kitchen
Shop the products featured in this kitchen.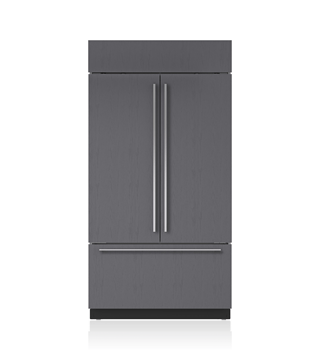 Similar kitchens
Explore other kitchens with similar styles.