Character Study
Regional Award Winner KDC 2008-09
In Kentucky, reclaimed woods help create a casual open kitchen that reflects the personality of its owner.
For his new home on a bluff overlooking a golf course in Bowling Green, Kentucky an established real estate developer needed an inviting space for casual entertaining and catering large fundraisers. Working within the architect's footprint, cabinetmaker Robbie Barnhart of Nashville Custom Woodworking was asked to build a kitchen that flows well for chefs and guests alike, and reflects the homeowner's personality. "He's not a super-formal person on a day-to-day basis," says Barnhart. "He didn't want it to be rustic or polished. He asked for character." Wormy chestnut from old barns in east Tennessee now lend their time-worn patina to the kitchen cabinetry that reads more like paneling, and antique wide plank oak flooring, limed and scrapped, was used for the floor. The walls were possible with two Sub-Zero 36-inch Integrated refrigerator freezers, fridge, ice and warming drawers that carry the paneling through the kitchen seamlessly.
Different levels of finishes and textures, including the darker-stained island that matches exposed ceiling beams, prevent all the wood from feeling overly imposing. The island's generous marble top creates a buffet area accessible from the adjacent gallery and dining areas. Strong focal points and keeping everything to an appropriate scale were critical. Bold hardware, a custom chandelier, and the generous Wolf 60-inch
range with large stainless steel hood all feel 'just right'. Barnhart, who knows how to showcase and appreciate wood like few other people, is passionate about proper illumination. "Given the size of this room and the dark ceiling, without the windows and the proper lighting you could almost have a cave persona," he explains. "Lighting is the key to avoiding dark spots and to highlighting the depth and texture of the wood."
In this kitchen
Shop the products featured in this kitchen.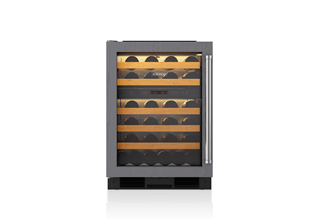 Similar kitchens
Explore other kitchens with similar styles.