Chicago Penthouse
Regional Award Winner KDC 2013-14
A Chicago penthouse with a breathtaking lake-to-city view. What more could any red-blooded bachelor want?
But this penthouse had problems. It was dark, drab, outdated. A large wall separated the living room from the kitchen, making the penthouse feel cramped, and impeding the view. The bachelor owner wanted to turn his new space into a landmark property, and create a space that would function both as his primary residence and a large-scale entertaining venue for the professional functions he frequently hosted. It was a challenging assignment for designer Shawna Dillon of Snaidero Chicago and Michael Miller of Centaur Interiors, who spearheaded the removal of the wall between the living room and kitchen. "The space was immediately transformed," she says. "The view was stunning, and the main living space felt extraordinary." But the impressive size created a new set of challenges. Shawna had to scale the kitchen to be intimate enough for just the bachelor to use, yet not feel cramped when it was filled with guests and caterers. Surprisingly, a large support column for the building worked to her advantage. She created four different work/prep/storage zones, using the column as a divider between two of the zones. This gave the client a multi-function kitchen that worked as well for a large team of caterers as it did for the client preparing a simple meal.
Drab as it was, the original kitchen did have great appliances – 48" Sub-Zero refrigerator, 30" wine storage and 30" Wolf double oven. So Shawna just supplemented those with an induction cooktop on the kitchen island, and a drawer microwave under the counter. Looking at the photos, you may wonder where the ventilation is. The hood motor is cleverly concealed under the coffee brown decorative wood on the ceiling –
again, to take full advantage of the penthouse view. Credit Michael Miller for the clever hood design. It's hard to imagine a more dramatic kitchen renovation, especially as you gaze out at the waves breaking on Lake Michigan, or the skyscraper lights beginning to twinkle on. The KDC judges recognized Shawna's accomplishment with a single word: "Perfection!"
In this kitchen
Shop the products featured in this kitchen.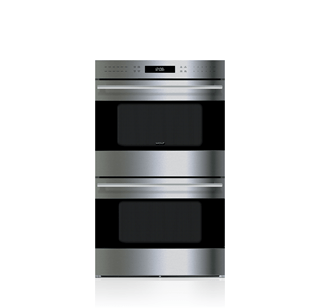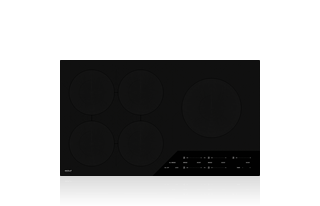 Similar kitchens
Explore other kitchens with similar styles.