Copelen Street
Small Spaces Kitchen Award KDC 2017-18
The sophistication and visual simplicity of Erika Lancini's Copelen Street kitchen design is no accident. The result is an elegant space that is functional, flexible, and gracefully connected to the adjacent living spaces. The materials and sleek, uninterrupted lines create a coherent design language throughout the kitchen and home.
Awash in neutral shades, the kitchen is peppered with black accents: the reflective Wolf ovens and cooktop, the black glass sliding door that cleverly conceals the butler's pantry, and the low, horizontal black-framed window. The corner of the kitchen and the Sub-Zero refrigerator and freezer are paneled with mirrors and light wood cabinetry, inviting and guiding the residents into the space. Equally lustrous as the joinery, the honed stone surface continues the mirror motif. Light and form reflect and refract in nearly every corner of the kitchen—a sophisticated effect that creates the illusion of a larger space. Lancini preserves the linear style of the kitchen with the flush-installed cooktop, low, horizontal window, and sunken, flat sink fixture in the island.
Abundant natural light fills the kitchen, and pleasantly enhances the already beautiful environment. The windowed staircases provide ancillary illumination from the living areas above and below. The linear window above the Wolf cooktop provides ample visibility for food preparation and reflects brilliantly in the stone countertops. The mirrored refrigerator panels disperse the light from the floor-to-ceiling windows off the adjoining living room.
In the Copelen Street kitchen, one feels serene and comfortable—at home in an elegant, airy retreat. Functionality rules, but it does not hinder the beautiful aesthetics. Without Lancini's astute attention to every minute detail, the clean, visually simple design would not have been possible.
In this kitchen
Shop the products featured in this kitchen.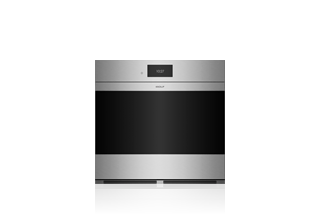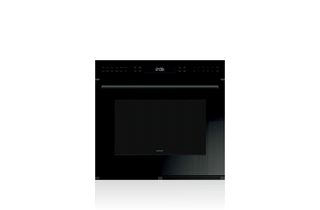 Similar kitchens
Explore other kitchens with similar styles.