Corey Creek Contemporary
Regional Award Winner KDC 2013-14
The most valuable skill for a kitchen designer? Listening. When owners Jeff and Racha began planning their 4000-square-foot classic contemporary dream home in Michigan, they knew they wanted the kitchen to be the main gathering space for family and friends. They also knew it had to integrate into a much larger space that included the living room and great room.
But beyond that, they were stumped. Jeff liked modern, Racha liked transitional. It was up to designer Kevin Grahl to listen to their likes and dislikes, walk them through showrooms – and rely on his trained intuition. Both Racha and Jeff liked the samples of horizontal woodgrain they saw. Additionally, Jeff mentioned the word "industrial" in their initial meeting. These two details gave Kevin a launching point for his design. He was working with over a thousand square feet, with 12-foot ceilings adding to the enormity of the space. So to scale down the kitchen space and also bring more light to the work area, Kevin designed a 700-pound, custom-built light bridge that was suspended from the ceiling with 12 threaded stainless steel rods. (It took several lift jacks to hoist it to the ceiling for installation.) To visually define the kitchen within the overall space, a centerpiece island was designed to mimic the shape of the light bridge, with a thick, solid granite countertop that waterfalls down one side.
The range wall is anchored by separate Sub-Zero refrigerator and freezer columns, integrated into the horizontal woodgrain cabinetry. The full-height columns helped achieve a symmetrical design. Since Jeff and Racha love cooking, they chose the Wolf 48" dual fuel range, with its superior cooking and baking performance. At one point, the homeowners had planned to use wine storage from another company, but Kevin suggested a Sub-Zero unit that would fit flush with the cabinetry. It's a great new home for the couple's extensive wine collection.
"When we first started this project, we had no idea what we would do with the kitchen," says Racha. "Kevin understood what we were looking for and created a unique design that works perfectly within the space. From the first presentation, we were blown away by the concept. We love having guests over for dinner so we can show off our gorgeous new kitchen."
In this kitchen
Shop the products featured in this kitchen.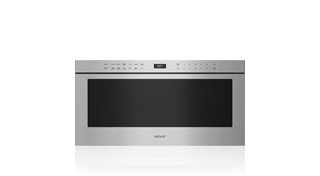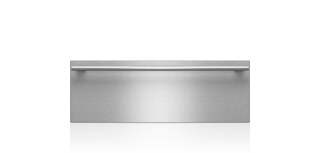 Similar kitchens
Explore other kitchens with similar styles.