Doll Residence
Regional Award Winner KDC 2013-14
The homeowners of this Atlanta Tudor were frustrated. Their kitchen was a closed in and dark space, with multiple islands and peninsulas, neither functional nor appropriate for entertaining. Instead of being the social center of the home, a place where everyone naturally gathered, it seemed to be a space where no one wanted to spend time.
The solution was a common one in today's home renovations: open up the space, let in the light, give the homeowners convenient access to the appliances they'd use the most. Make it a kitchen the whole family could enjoy. By flipping the orientation of the kitchen and breakfast room, the designers were able to open up the space and create a better flow, as well as work in a pantry that took on the function of a "side kitchen", with stone countertop, small appliances and a freezer in additional to traditional pantry storage. Re-orienting the kitchen also made it feel more connected to the rest of the home. Wall sconces and woodwork designs atypical to a kitchen space added to this unified feeling. For the working kitchen, there is a large island suitable for entertaining, opposite a range wall with a very symmetrical composition. The 48" Wolf dual fuel range was chosen for its combined cooking and baking prowess, eliminating the need for double ovens. It is flanked by a Sub-Zero refrigerator on the left – hidden under an extended panel that recreates the Tudor arch shape – and the pantry door on the right.
Larger windows and French doors bring in more natural light, and a more neutral color palette adds to the airy effect, with traditional white cabinetry and countertops, and a repeated chevron pattern at the range backsplash, island and bar backsplash.
Ultimately, it is a very clean and fresh rendering of today's desired kitchen integrated into a very traditional English country home. The homeowners couldn't be happier.
In this kitchen
Shop the products featured in this kitchen.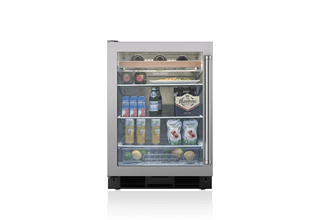 Similar kitchens
Explore other kitchens with similar styles.