Lake Forest Residence
2015-2016 KDC Finalist
When you walk into a shiny new kitchen and the first thing you notice is not the refrigerator or the backsplash, but a striking abstract painting on the wall, what would your reaction be?
Perhaps it would be admiration for a designer who really listens to his clients, and has the imagination to innovate in the most subtle, beautiful ways. Lake Forest clients of designers Mick De Giulio and Greg Webb wanted a space that was modern and functional, suitable for entertaining, but with a simplicity that would allow her to showcase her artwork. No extraneous decoration, no conspicuous appliances, but unique details, if they enhanced the presentation of the paintings. Mick created a highly functional galley kitchen layout that is ideal for meal preparation and serving guests. Then he got down to the finish details, which give the kitchen its almost gallery-like atmosphere. Soft white cabinetry is combined with a fumed Eucalyptus wood veneer in a way that defines each element of the kitchen, and more dramatically frames and defines the featured abstract painting as well. On the south wall, the cabinetry hides two Sub-Zero 30" refrigerators and a 30" freezer – it is difficult to imagine that this kitchen contains so much refrigeration. Under the painting, the cooking set-up is another revelation: just two Wolf 30" induction cooktops and two 30" undercounter ovens – about as sleek and minimal as you can get, yet still fully capable of whipping up an impressive dinner for ten.
On the north wall, dark wood cabinetry provides a dramatic backdrop for the dining table, and even anticipates the painting in the room beyond. Here is where you can best see the most striking element of Mick's design: a rich silicon bronze that is used for the sleeve, ladder rail and hardware, and on the other walls as well. It brings richness and definition to the kitchen without stealing the show. We almost hesitate to mention that in this stunning cabinetry, the owners keep brooms, the vacuum and other
necessary items. Storage can be stunning, in the right hands. More and more often these days, homeowners seek kitchens that perform all the necessary cooking and storing functions, but also integrate subtly, seamlessly into the overall feel of the home. This Lake Forest kitchen is a shining example of that, and just what we would expect from a designer with the imagination of Mick De Gilulio.
In this kitchen
Shop the products featured in this kitchen.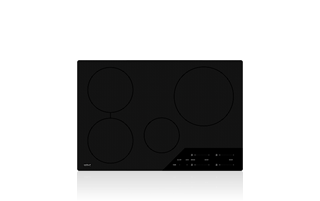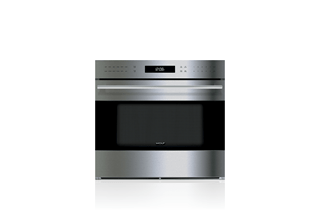 Similar kitchens
Explore other kitchens with similar styles.