Mecsay Condo
2017-2018 KDC Finalist
Known for her sleek, contemporary design, architect Sandra Diaz-Velasco was uniquely qualified to rework an outdated condo into a masculine and modern bachelor pad. She describes Mecsay Condo style as "sleek, sensitive elegance laced with an edgy, contemporary craftsmanship."
The client requested a space that was uncluttered, housed the best appliances as well as extensive storage and a pantry, and could accommodate his love of entertaining. The project was particularly challenging due to just how outdated the space was, as well as the limited square footage dedicated to the kitchen due to the owner's entertaining needs. Diaz-Velasco transformed the tired space by reconfiguring the kitchen's footprint into the central living area using luxury materials and seamless appliances. High-quality materials in a subdued color palette provide the foundation for the elegant, yet minimal aesthetic. Anchoring and defining the space is the two-tiered island made of natural black stone and white marble—even the cabinet doors and the hood cover above are lined in the black stone. The island offers ample space for the cooking appliances, as well as seating for guests. Opposite the island, warm wood panels mask the slim Sub-Zero refrigerator and freezer units, appearing more like furniture elements than appliances. Bi-fold pocket doors in the same wood collapse to reveal the sink area, backed by gray quartz stone. Diaz-Velasco custom designed a thick, sliding wall that would subtly hide the laundry and pantry area, satisfying the client's request for an uncluttered look—and pushed the limits of current trends in cabinetry.
The cooking appliances were selected for their professional-level results, functional versatility, and design integration. The Wolf electric cooktop, convection steam oven, and drawer microwave create solo meals and larger spreads with equal mastery. Design-wise, they are compact and integrate seamlessly into the contemporary style. Positioning the cooking epicenter in line with the dining area, Diaz-Velasco designed a dynamic hub for guests and host to connect before, during, and after meals. Hovering
overhead, the custom-designed, floating light was designed by Diaz-Velasco, as nothing in the market would satisfy the design concept. Overlooking Biscayne Bay, Mecsay Condo is open and welcoming despite the contemporary and angular design. No doubt, Diaz-Velasco has transformed this 1970s condo into a stunning space befitting an entertaining-loving, modern-day bachelor.
In this kitchen
Shop the products featured in this kitchen.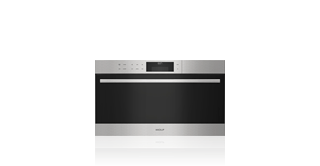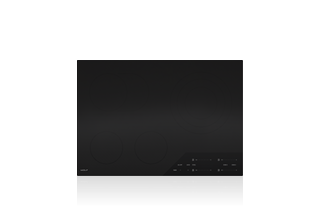 Similar kitchens
Explore other kitchens with similar styles.