Pierson's Way / The Potato Barn
Regional Award Winner KDC 2013-14
When architect Paul Masi was commissioned to design a large family home in an East Hampton beachfront community established in the 19th century, he knew it had to be something that would fit in organically with both the landscape and the small-scale, conservative homes nearby. Ultimately, his inspiration came from one of the most unassuming structures on Long Island.
The potato barn.
Potato barns are often dug into the side of hills for natural cooling. So Masi took a similar approach for this 7000 square foot home. An earth berm in front rises to the second story, making it appear from most angles to be a single-story home, and a comfortable fit for the surrounding community. You get a true sense of the house from the back: living and entertaining space downstairs, family bedrooms on the second floor, all looking out over the back courtyard and pool area.
Materials traditionally used on agricultural buildings are present throughout – weathering steel, cedar shake shingles – providing durability and warm, earthy tones that blend with the weathered landscape surrounding the house.
As you might expect, the kitchen of Piersons Way is distinctively modern and striking. It was designed with very specific requirements: serving the day to day needs of the family, entertaining large parties, and at times accommodating a professional chef. Masi and the homeowners chose Sub-Zero, Wolf, and Cove appliances which provide not only the professional level performance needed, but integrate seamlessly into the design. "Does not look like a kitchen," commented a KDC judge, paying a high compliment to this (literally) groundbreaking home. As big as this project is, every detail is exquisite – note the stone framed cooking alcove and the sink detail in the island.
On the patio, surrounding by prairie grass, a Wolf outdoor grill anchors a full outdoor kitchen with panoramic views of the ocean.
Especially as surrounding oceanfront communities often become overdeveloped and disconnected from the natural environment, it's heartening to see a house like Piersons Way that is rooted within the landscape and becomes a cohesive addition to the neighborhood.
In this kitchen
Shop the products featured in this kitchen.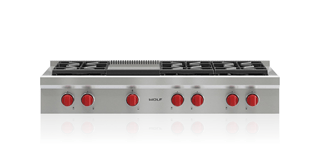 Similar kitchens
Explore other kitchens with similar styles.