Small Kitchen Big Style
2015-2016 KDC Finalist
What must designer Martin de Sousa have thought, when approached by clients to remodel their modest townhouse kitchen in downtown Toronto? The clients desired a more open concept kitchen; however, the unique concrete structure of the townhouse prevented any major layout changes. The wood paneling and the closet were outdated and did not suit the client's modern tastes. They wished for the kitchen to act as an entertainment area highlighting the existing Sub-Zero, Wolf, and Cove appliances inherited from the previous owners.
The first challenge to address was the 30" space saver microwave, incorrectly utilized to vent a 48" range, which also had exposed cabinetry above it, presenting a major fire hazard. To solve this issue, Martin had a 48" built-in 600 CFM hoodfan installed for proper ventilation. The second challenge was the placement of large-scale stainless steel appliances in a small-sized kitchen. The solution was to shift the range to the left and add stainless steel drawers on either side to create the look and feel of a professional cooking zone. The Sub-Zero refrigerator was also shifted and integrated into a row of tall cabinetry. Lastly, to make the space appear more open and up to date, contemporary finishes were added to complement the modern appliances. These finishes included high-gloss light grey lacquer cabinetry, along with white quartz countertops and backsplash, which were used as a framing element around the cooking zone. A dark charcoal hoodfan cabinet was intentionally used to create depth. To add warmth to the space, palm wood paneling and floating shelves were used as a transition from the kitchen to the living area. The clients were thrilled with the end result. New placement of appliances and use of a suitable hoodfan produced a far more functional kitchen. Martin's thoughtful design and inspired choices of finishes have beautifully overcome the project's initial obstacles.
In this kitchen
Shop the products featured in this kitchen.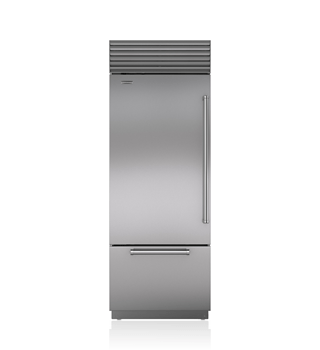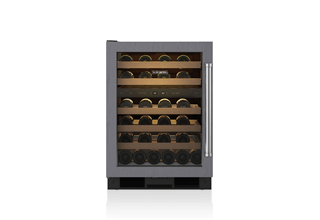 Similar kitchens
Explore other kitchens with similar styles.