Stinson Beach Kitchen
Regional Award Winner KDC 2013-14
Completely organized, uncluttered and white.
The client made it crystal clear to designers Krikor and Rosemarie Halajian what she wanted her new kitchen to be. Supremely functional. Everything (even the smallest pot or ladle) in its place. And no distractions of any kind from the typical contrast of hardware, lighting or other elements.
It's not surprising why she wanted such a clean and uncluttered space. Looking from the kitchen to the back of the house, you are treated to a stunning view of the Pacific Ocean. And isn't that what a beach house is all about?
Even before they created the basic plan for the space, the Halajians had to make sure that every item had a specific place in the cabinets. That meant measuring nearly every small appliance, pot, mixing bowl, wine glass, etc., then determining where it should be stored to make the most sense functionally, according to the way the client cooked and entertained. She was willing to invest in interior cabinet fittings that some might find extravagant, but she views as necessary to have the space work as envisioned.
So much for clutter. Distractions were minimized by using touch latches on the cabinets, and powder coating the appliance pulls in white. The Porcelanosa backsplash tile had to be stacked and fit perfectly in the space so there would be no irregular sized tiles or extra grout lines to distract the eye.
The 48" Wolf range is the only apparent appliance, but a necessity in terms of kitchen function. The Sub-Zero refrigerator is hidden, yet at the same time, tastefully featured.
Everything in its place, so anyone can cook or help out in the kitchen and find what they need. Preparing and cleaning up after meals is stress-free. Everyone can enjoy the views, and long happy days playing on the beach.
"I ADORE this kitchen!" said a Kitchen Design Contest judge. "Love the whimsy of the plates and fish." (Right above the range, if you're curious.)
In this kitchen
Shop the products featured in this kitchen.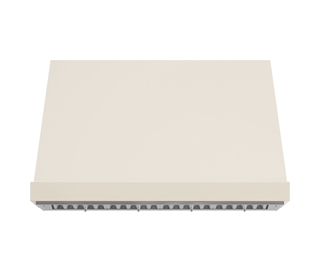 Similar kitchens
Explore other kitchens with similar styles.