Stunningly Stainless
Regional Award Winner KDC 2013-14
Obviously, we at Sub-Zero have a long-held love for stainless steel. Nothing else we know of performs so well, or makes such an impression in a kitchen. So when we saw the photos of this stunning kitchen in Colorado, we said, "Wow!"
The home's existing kitchen had a very commonplace look, with traditional oak cabinets and island and neutral finishes. Not surprisingly, the client decided it was time for a very contemporary update. The space also had to be flowy and functional, as she often entertains on a large scale. The client had used Sub-Zero, Wolf, and Cove appliances for many years. She asked a chef of her acquaintance for recommendations of specific products, which included Wolf wall ovens and convection steam oven, four 15" cooktops and Sub-Zero 36" refrigerator and freezer columns. Next came designer Monique Agnew's most dramatic decision – instead of disguising any of the appliances with cabinetry, she not only let them stand on their own, she had brushed stainless steel framed cabinets created to frame them. The cooktops and ovens are also set within custom stainless steel cabinetry to create a custom stove. Even the hardware and pulls are brushed stainless steel to further reinforce the aesthetic. The effect is stunning, as you can see.
The stainless steel cabinetry is extended into the island and the plate storage cabinet – our favorite feature of this unique kitchen. To add a final flourish, Agnew commissioned Heath Ceramics to create the floor pattern specifically for this project. While it's difficult for us to take our eyes off the stainless steel beauty of this kitchen,
we'd be remiss if we didn't mention the kitchen loggia, with seating for six and a wonderful view of the outdoors. A fine place for the client and her guests to enjoy an early morning cup of coffee, and perhaps croissants fresh from the convection steam oven.
In this kitchen
Shop the products featured in this kitchen.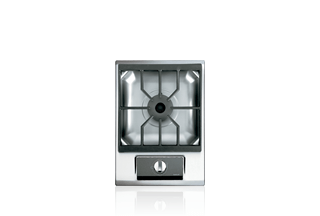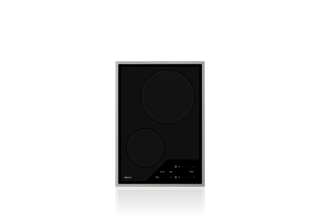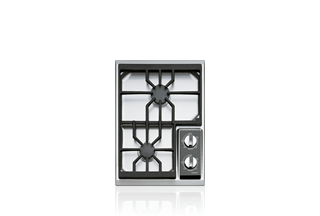 Similar kitchens
Explore other kitchens with similar styles.