The Prado
2nd Place Transitional Award KDC 2013-14
"Ultimately, we wanted to do something we hadn't seen before." Joel Kelly threw out his playbook, when he heard what his client in Atlanta wanted her new kitchen to do.
She needed a kitchen that would be open most of the time, yet could be closed off for formal entertaining. She required maximum storage, as she was downsizing from a large house to a townhome. And given her considerable art collection, she wanted a space that would be beautiful and artistic in and of itself. Joel had to create a kitchen that simultaneously acted as a focal point and disappeared into the background. So he designed a steel and glass wall the length of the kitchen, with reflective and transparent qualities that evoked the modernist architecture of prominent art museums and offices. The wall also allowed him to control the sights, sounds and smells of the kitchen, for those times when the client was entertaining.
To provide the maximum amount of storage, the kitchen has full-height cabinets and a ladder/rail system that allows access to even the highest cabinets. A 48" Wolf dual fuel range has the sleek, industrial look that fits with the design direction of the kitchen, while a custom-designed hood form adds to the dramatic feel. The Sub-Zero refrigerator's configuration allows it to hide under the cabinetry. Sleek as this kitchen
is, it is definitely not sterile. Much of its artful effect comes from the choice of finishes – the herringbone parquet flooring, and its bold, swirling marble countertops. ("So refreshing to see something other than white countertops!" commented our Kitchen Design Contest judges.) In both function and design, this Atlanta kitchen is a true work of art.
In this kitchen
Shop the products featured in this kitchen.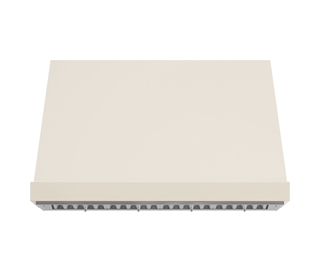 Similar kitchens
Explore other kitchens with similar styles.