Skip to main content
Wolf EC24 Coffee System Grind Setting Adjustment
Topics:
Set the grind adjustment on the EC24 Coffee System
What number should the grind adjust be set to?
Coffee System grind setting
Where is the grind adjustment dial?
Answer:
The grind adjustment knob is inside the whole coffee bean compartment in the EC24 Coffee System.
Adjustment must be made while the mill is in operation.
Only turn the grind adjustment dial during the grinding process, or alignment issues with the grinding blades may occur.
If coffee delivery is too fast or too slow, the grind can be adjusted by turning the grind adjustment dial.
Dial can be set from level 1 (finer grind) to 7 (coarser grind).
Turn the dial clockwise for faster coffee delivery and a coarser grind.
Turn the dial counterclockwise for slower coffee delivery and a finer grind.
The factory setting of the grind adjustment dial is level 5.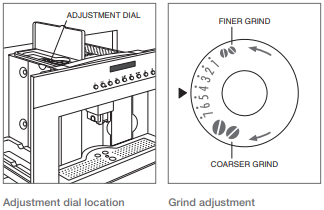 DID THIS ANSWER YOUR QUESTION?

We're standing by with answers
Whether you're shopping for appliances or have questions about those you already own, we've got the resources you need. Talk directly to a customer care expert at the Sub-Zero, Wolf, and Cove service center, or connect with an appliance consultant at an official showroom near you. Get quick answers online, or reach a certified service provider or installer. And much more.
Call us at (800) 222-7820