Skip to main content
Wolf Legacy E Series Wall Oven How to Enter Delayed Start
Topics:
Delayed Start Feature for E Series Wall Ovens
How to enter the Delayed Start feature.
How to use Delayed Start.
Answer:
Setting Delayed Start controls for E Series Ovens:
Touch desired cooking mode (except Broil, Conv Broil, and Bake Stone).
Touch Enter to select preset temperature or use number pads to change temperature.

If Enter is touched, the oven will begin to heat immediately, but will enter idle mode once stop time is set.

Touch Timed Cook. Use number pads to set cook time (how long the unit will run) in hours and minutes.
Press Enter.
Use number pads to set stop time (time of day) in hours and minutes.
Touch Enter.
Press 1 for a.m. or 2 for p.m.
Touch Enter.
The time the unit will start and the length of time the unit will run alternates on the display panel.
If the unit needs to start at a specific time, you will have to calculate the end time minus how long the unit will run.
Example: To have the oven start at 2 p.m. and run for 3 hours, you need to enter a stop time of 5 p.m.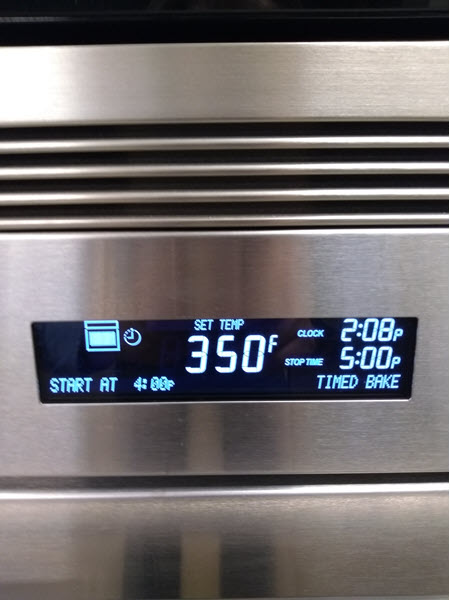 The Time of Day clock must be set to the correct time in order for the Delayed Start feature to work correctly.
DID THIS ANSWER YOUR QUESTION?

We're standing by with answers
Whether you're shopping for appliances or have questions about those you already own, we've got the resources you need. Talk directly to a customer care expert at the Sub-Zero, Wolf, and Cove service center, or connect with an appliance consultant at an official showroom near you. Get quick answers online, or reach a certified service provider or installer. And much more.
Call us at (800) 222-7820