Skip to main content
Wolf Vacuum Seal Drawer Installation Guide
Topics:
Vacuum Seal Drawer Installation Guide
How to install the Vacuum Seal Drawer (VS24)
Electrical requirements
Anti-tip installation
Unit smoking during first-time use
VS24 is loud after installation
Do not discard the package containing two screws provided for installation.

To replace lost screws, order kit 827782, which contains all the screws for the unit.
Genuine Sub-Zero, Wolf, and Cove parts are available only by calling the Factory Certified Parts Distributor in your area. The kit is not available for purchase online.

Install an anti-tip block against the rear cabinet wall. Verify screws are adequately secured and do not penetrate electrical wiring or plumbing.
Tipping the unit causes oil to leak, leading to smoke and loud operational noise the first few times the unit runs.
The unit will smoke if the filter is not installed before installation.
The unit requires mounting brackets that come with the front panels for installation. Refer to Vacuum Seal Drawer VS24 Front Panel.
VS24 Installed Under a Countertop:
A filler is needed if the VS24 is installed under a countertop.
The countertop overhang will interfere with the lid opening if no filler is used.
Refer to the illustration below.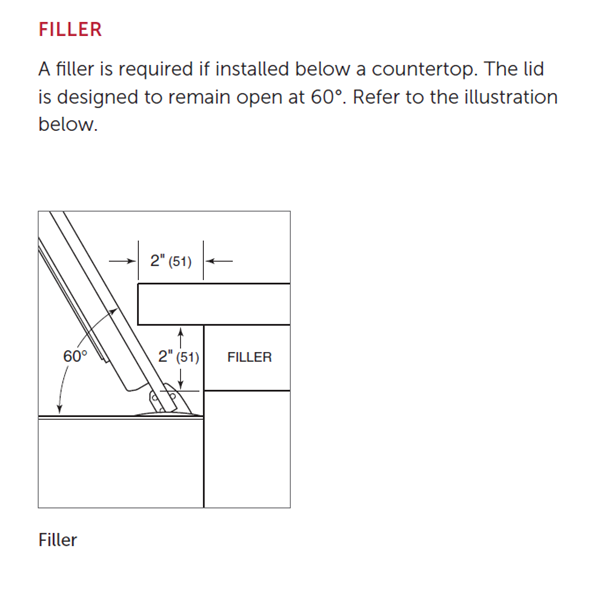 DID THIS ANSWER YOUR QUESTION?

We're standing by with answers
Whether you're shopping for appliances or have questions about those you already own, we've got the resources you need. Talk directly to a customer care expert at the Sub-Zero, Wolf, and Cove service center, or connect with an appliance consultant at an official showroom near you. Get quick answers online, or reach a certified service provider or installer. And much more.
Call us at (800) 222-7820