15" Transitional Steamer Module
Model # SM15TF/S
MSRP $2,910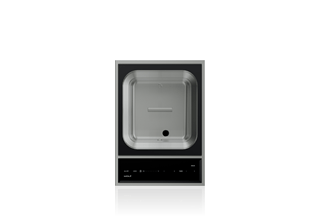 Pinch to zoom
Images are for reference only.
Steam meats, grains, and more with the powerful 2700-watt heating element
Increases precision cooking as well as the ability to adjust in 1-degree increments with 10 preset power levels for sous vide cooking
Melt fine chocolate, proof bread, and more
Slow cooks for eight to ten hours
Holds steam for more consistent temperatures with the advanced lid seal
Pair the slim 15" modules with other modules and full-size transitional framed cooktops
Holds up to 20 cups of liquid
Stack stainless steel pans with ease
Release full water capacity in just two minutes with an electronic drain
See all features
Cook timer
Glass-top sealed lid
Overall Dimensions: 15" W x 13 1/2" H x 21" D
Star-K Certified
Electrical Supply: 3-wire, 240/208 VAC, 50/60 Hz
Electrical Service: 15 amp dedicated circuit
Conduit Length: 4 Feet
About Sub-Zero, Wolf, and Cove
Wolf Products
Envision the possibilities
Pro tips
Considerations before you finalize your decision:
Consider a filler strip for the seamless installation of multiple modules
Let's talk
Prefer to discuss the features of Wolf appliances with an expert?
Call us at (800) 222-7820

Experience a showroom
A visit—in person or virtually—to your nearest showroom is the ideal way to see and experience the complete line of Wolf appliances.
For a limited time, earn three additional years of protection or a rebate up to $2,500 with the purchase of a qualifying Sub-Zero, Wolf, and Cove appliance package.
The only dishwasher made to complete the Sub-Zero and Wolf kitchen, Cove ensures spotlessly clean and dry dishes—every time.
Certified installation
Earn an extra full year of warranty coverage and ensure a flawless fit with Factory Certified Installation.