Skip to main content
600 Series Light Bulb and Diffuser Removal
Topics:
Replace the light bulbs in a 600 Series Sub-Zero refrigerator or freezer
Access and remove the light diffuser on a 600 Series Sub-Zero
Instructions for removing 600 Series light shield
611 and 650 freezer bulb removal
Replacement Instructions
There are different processes for removing overhead light diffusers and removing light diffusers for a freezer basket. Refer to the diagrams below while following instructions: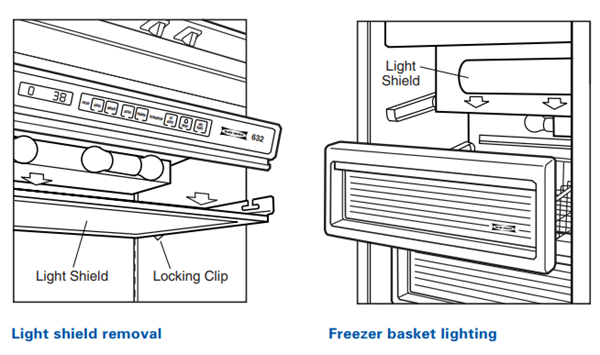 Overhead Lighting
To remove a light bulb:
Remove the overhead light diffuser:

Pull the two clips down toward the back underside of the light diffuser, as shown above.
Lift and slide the light diffuser back toward the rear of the unit slowly. Slide the light diffuser back until the key slots on its side drop past the mounting studs in the freezer walls.
Remove the shield.

Twist the bulb counterclockwise to remove.
Twist the bulb clockwise until tight.
Install the light diffuser:

Make sure the metal tabs on the diffuser are down. These tabs go in the back.
Depending on the width, it may be necessary to place both hands on either side of the diffuser.
Raise the diffuser to match the "T" channels on the diffuser to the brass colored posts in the compartment. The diffuser can be angled so the back is visible, making it easier to align.
Raise the diffuser into the posts, then pull diffuser forward to engage and lock diffuser into place. Failure to properly lock will cause diffuser to drop, causing damage to diffuser, contents in refrigerator, and bodily harm.
Once locked into place, rotate the metal tabs on either side into place.
Freezer Basket Lighting
In most models, freezer basket lighting is below the ice maker and mounted on the back wall of the freezer.
To remove the light shield, gently compress the shield to release the top, then the bottom. The bulb is now accessible.
To install the shield, put the bottom in place first, then compress and insert the top.
Model 685 and 695: Freezer lighting is accessible above the ice bin once the freezer utility rack is removed.
To remove the freezer utility rack, lift up and pull out at the bottom with one hand while supporting the top with the other hand.
Model 611 and 650: The light bulb in the freezer compartment of models 611 and 650 is at the top front of the freezer. There is no light diffuser. The bulb is exposed.
To see the bulb, use a small mirror to identify the bulb location.
DID THIS ANSWER YOUR QUESTION?

We're standing by with answers
Whether you're shopping for appliances or have questions about those you already own, we've got the resources you need. Talk directly to a customer care expert at the Sub-Zero, Wolf, and Cove service center, or connect with an appliance consultant at an official showroom near you. Get quick answers online, or reach a certified service provider or installer. And much more.
Call us at (800) 222-7820