Skip to main content
600 Series with Service and Ice Flashing
Topics:
How to fix Service Ice flashing on a 600 Series unit
No ice made and Service Ice flashing
Difference between "SERVICE" flashing and "SERVICE ICE" flashing on a 600 Series unit
Cause:
Water valve solenoid energized too long
Troubleshooting: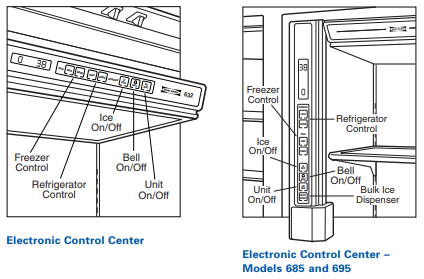 If both "SERVICE" and "ICE" are flashing:
Turn the unit off for 10 seconds.
Turn the unit back on.
If only "SERVICE" is flashing and "ICE" is solid, see Sub-Zero with "Service" Flashing.
If this recurs frequently in a short time, contact Factory Certified Service.
If this recurs after six months or longer, this can be reset following the above steps.
Ice production resumes shortly after this reset.
Refer to No Ice Production for additional ice maker troubleshooting.
If these steps do not resolve the issue, no further troubleshooting advice is available. Contact Factory Certified Service to schedule an appointment for repair.
DID THIS ANSWER YOUR QUESTION?

We're standing by with answers
Whether you're shopping for appliances or have questions about those you already own, we've got the resources you need. Talk directly to a customer care expert at the Sub-Zero, Wolf, and Cove service center, or connect with an appliance consultant at an official showroom near you. Get quick answers online, or reach a certified service provider or installer. And much more.
Call us at (800) 222-7820