Skip to main content
500 and 600 Series Ice Bin Carriage Assembly Removal
Topics:
Remove the ice bin carriage assembly in a 532, 542, 561, 632, 642, or 661?
Replace the ice bin slides in a 500 or 600 Series side-by-side unit?
How to remove the ice bin carriage assembly or ice bucket slides if broken
Answer:
The ice bin carriage assembly rollers fit inside the ice bin slides attached to each side wall. To replace an ice bin carriage assembly or ice bin slide, remove all three components.
Remove Or Install Ice Bin Carriage Assembly
To remove the assembly:
 Remove the ice bin.
Push the ice bin carriage assembly back in.
Remove the two front most screws from each ice bin slide, as shown below.

For 600 Series units, it is not necessary to remove the screws that fit into slots at the bottom rear of each slide.


Pull slides and carriage assembly forward and out.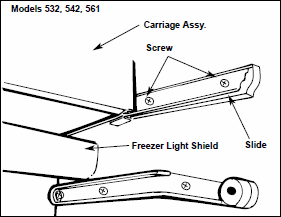 To install the assembly:
Screw in middle screw of left and right glides. Do not overtighten; the glides must be able to pivot.
Pivot the glides up, so that the carriage assembly rear wheels can slip back into place. Pivot glides back to level and install the front screw on each side.
Remove or Install Ice Bin
For ice bin installation information, see also:
If these steps do not resolve the issue, no further troubleshooting advice is available. Contact Factory Certified Service to schedule an appointment for repair.
DID THIS ANSWER YOUR QUESTION?

We're standing by with answers
Whether you're shopping for appliances or have questions about those you already own, we've got the resources you need. Talk directly to a customer care expert at the Sub-Zero, Wolf, and Cove service center, or connect with an appliance consultant at an official showroom near you. Get quick answers online, or reach a certified service provider or installer. And much more.
Call us at (800) 222-7820