Skip to main content
Sub-Zero Side-by-Side Model Ice Bin Installation
Topics:
How to install ice bin in Classic (formerly Built-In), 500 or 600 Series side-by-side unit
Ice bin not sliding all the way back
Why is the ice bin not going back in after removing it?
Ice drawer is not going in right, how to put it back in
Ice bin carriage assembly is crooked, not sliding in and out easily or locked in forward position
To install an ice bin on side-by-side Sub-Zero models:
Look inside the freezer to find the white metal plate the bucket rests on.

The plate is about 9" high and almost the full width of the freezer.
Sometimes this metal plate is pushed back into the ice bin area.
Look back into the area where the ice bin came out of to find the plate.

Pull the white metal plate out until it stops on the rollers it glides on.
Set the rounded back lip of the ice bin on top of the white metal plate so it hangs from it.
Push the bucket back into the opening.
If the bucket sticks in the "out" position, which prevents it from sliding all the way in, hit the front of the bucket to push it in.

Hit the bucket firmly enough to loosen it.
This will free the carriage assembly.
The ice maker arm raises as the bin is removed, and automatically lowers as the drawer is pushed back into place.

If these troubleshooting steps do not resolve the issue, no further troubleshooting advice is available. Contact Factory Certified Service to schedule an appointment for repair.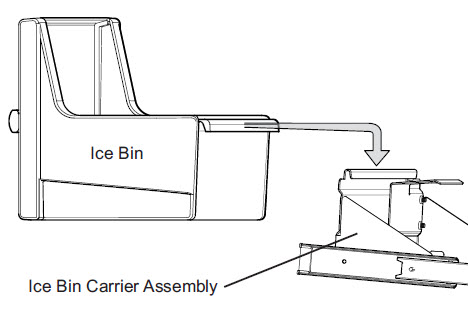 Units with an external or internal ice dispenser do not have a carriage (carrier) assembly.
DID THIS ANSWER YOUR QUESTION?

We're standing by with answers
Whether you're shopping for appliances or have questions about those you already own, we've got the resources you need. Talk directly to a customer care expert at the Sub-Zero, Wolf, and Cove service center, or connect with an appliance consultant at an official showroom near you. Get quick answers online, or reach a certified service provider or installer. And much more.
Call us at (800) 222-7820