Skip to main content
Sub-Zero Ice Maker Control Arm Will Not Lower
Topics:
Ice maker leveling arm is stuck in the up position, how do you lower it?
Will the ice maker turn off on its own, or must it be manually turned off/on?
How the Control Arm Works
The ice maker control arm is designed to sense the level of ice in the ice bin.
Once the ice bin is full, the control arm will turn the ice maker off until the ice level is lowered.
Ice maker control arms should flip up and down easily.
If the ice maker control arm, connecting rod, or shut-off arm is broken or not installed properly, ice production may stop, or the ice bin may overflow as the ice maker continues to produce ice after the ice bin is already full.
It is possible that the ice maker is in a harvest cycle, preventing the arm from lowering manually, or that an internal component is broken.
Control Arm Positions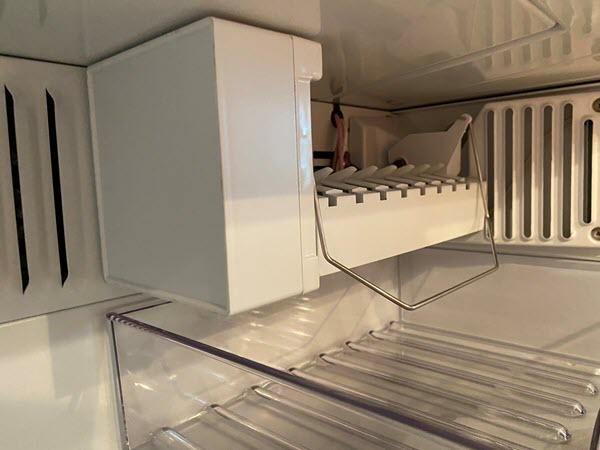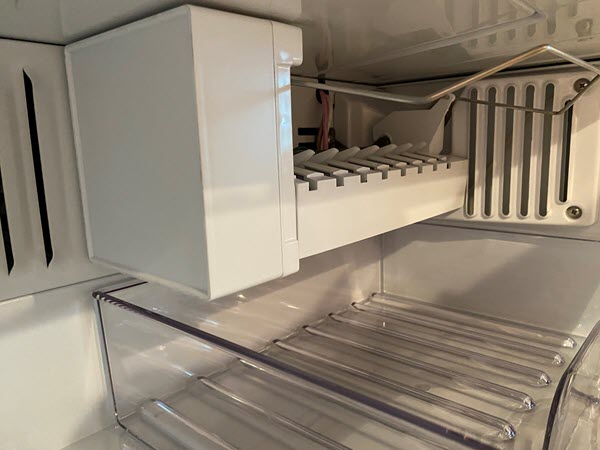 To troubleshoot an ice maker arm that will not lower:
If the arm is locked in the "up" position, firmly press down on the arm to lower it.

If the arm will not lower, do not force it, as it could break the arm.
Refer to the images below for ice maker arms in different models.

Confirm the ice maker is turned on at the control panel. If not, turn the ice maker on.
If the ice maker control arm is stuck in the "up" position and there is ice in the ice maker, defrost the freezer. See also, Manually Defrost a Sub-Zero.
Turn the home circuit breaker to the unit off for 30 seconds and back on again. Retest the unit operation.
If the ice maker arm is broken or cracked, contact a Factory Certified Parts Distributor to order parts. Part numbers can be serial number specific.
Reference these additional resources if needed: Ice Maker Control Arm Falls Off and 500 Series and 600 Series Ice Maker Arm Video.
If these troubleshooting steps do not resolve the issue, service is necessary to expertly diagnose and repair the product. Contact Factory Certified Service to schedule an appointment for repair.
Images of the Ice Maker Control Arm*
*For models missing from the list, no image is available.
Model
Image

BI-30U
BI-30UA
BI-30UG
BI-36U
BI-36UA
BI-36UFD
BI-36UFDID
BI-36UG
BI-36UID
BI-42UFD
BI-42UFDID

648PRO (starting with serial #2820930)
BI-36F
BI-36S
BI-42S
BI42-SD
BI-42SID
BI-48S
BI-48SD
BI-48SID
IC-24CI
IC-27F

IC-18FI
IC-24FI
IC-30FI
IC-36FI

ID-24F
ID-24FI
ID-30C
ID-30F
ID-30FI
ID-36C
ID-36FI
IT-30FI
IT-30CIID
IT-36CIID

661-2/3
648PRO (prior to serial #2820930)
700BCI
700BFI
700TCI
700TFI
736TCI

680
685 (prior to serial #2662411)
690
695 (prior to serial #2660861)

550 (from serial #1274690 to #1275889)
611
650
680
690

511
550 (from serial #M/P681166 to #M/P681565 and from #M702716/P700765 to #M/P1274690 and starting with #M/P1275889)
590
DID THIS ANSWER YOUR QUESTION?

We're standing by with answers
Whether you're shopping for appliances or have questions about those you already own, we've got the resources you need. Talk directly to a customer care expert at the Sub-Zero, Wolf, and Cove service center, or connect with an appliance consultant at an official showroom near you. Get quick answers online, or reach a certified service provider or installer. And much more.
Call us at (800) 222-7820