Skip to main content
Sub-Zero Ice and Water Dispenser Cleaning Instructions
Topics:
Clean hard water stains and water lines from my ice and water dispenser?
What is the best product to clean the dispenser?
The glasswell grille finish is coming off
Dispenser cleaning to remove odor from dispenser model refrigerators
Answer:
To clean stainless steel portion of dispenser:
To clean internal water lines and ice chute:
Calcium buildup in the ice chute may be cleaned with a 1:1 vinegar and water solution. Clean reachable area with a rag and the solution, then clean with a damp cloth.

If mold or other residue develops in the internal water lines or ice chute, contact Factory Certified Service to help with cleaning.
The water line to the unit is either copper or PEX, and a plumber might suggest how to clean them.
Inside the unit, there is nothing to clean nor should it require cleaning.
To clean a Sub-Zero door dispenser:
Remove dispenser water grille. See image below for example.
Dry any spills from removing water grille.
Clean dispenser and grille using soft cloth with solution of mild dish detergent, baking soda, and water.
Rinse with clean damp cloth and dry.
See also, Clean Stainless Steel and Platinum.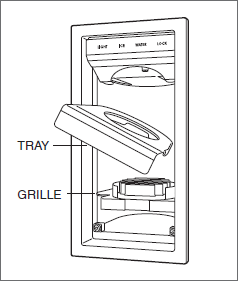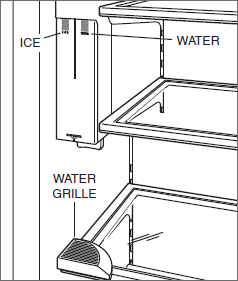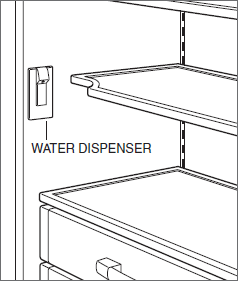 DID THIS ANSWER YOUR QUESTION?

We're standing by with answers
Whether you're shopping for appliances or have questions about those you already own, we've got the resources you need. Talk directly to a customer care expert at the Sub-Zero, Wolf, and Cove service center, or connect with an appliance consultant at an official showroom near you. Get quick answers online, or reach a certified service provider or installer. And much more.
Call us at (800) 222-7820