Skip to main content
Remove Sub-Zero Drawer Dividers
Topics:
Remove drawer dividers
Drawer dividers difficult to remove
Remove deli compartment divider
Cleaning drawer dividers
Answer:
Drawer dividers are inserted into "spines" or "posts" in the drawers, as shown below.
Line up the dividers to install and push down.
To remove, pull up on the divider firmly.
The dividers can be left in or removed for cleaning.
Drawer dividers have multiple "spines" allowing for different configurations as needed.
The number of dividers that can be removed is different depending on the model. Refer to the product Use and Care Guide for model-specific information.
Certain models, like the PRO4850, have a divider that is screwed into place and cannot be removed.

The divider is not removable due to child entrapment laws.
Do not remove the screw holding the divider in place. Sub-Zero does not have removal instructions.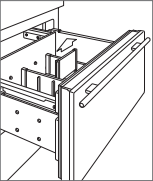 DID THIS ANSWER YOUR QUESTION?

We're standing by with answers
Whether you're shopping for appliances or have questions about those you already own, we've got the resources you need. Talk directly to a customer care expert at the Sub-Zero, Wolf, and Cove service center, or connect with an appliance consultant at an official showroom near you. Get quick answers online, or reach a certified service provider or installer. And much more.
Call us at (800) 222-7820