Skip to main content
Designer Wine Storage (IW) Shows Humidor Replacement Reminder
Topics:
Control panel of Designer (formerly Integrated) Wine Storage shows Humidor Refill Pack on display
Display shows Humidor Refill on IW Designer Wine Storage product
How to reset the Humidor Refill Pack message
Answer:
When using a Sub-Zero humidor in a Designer (formerly Integrated) Wine Storage unit, the control flashes a humidity packets replacement reminder, if active, about every 2 months. Time varies by ambient humidity.
Turn the humidor reminder on or off in the main options screen.
Models IW-18 and IW-24 do not support the humidor option. To disable the timer and prevent the message from appearing, see Designer Wine Storage Turn Off Humidor Option.
The reminder appears when the door is opened.
Touch 'snooze' on the display to snooze the alarm for 2 weeks, after which the reminder will appear again.
With the "Humidor Packet Replacement Reminder" message present, to reset the message:
Replace the humidity packages with new 72% packets.

Humidity packets slide into the retainer inside the humidor, as shown in the image below.
Sub-Zero does not sell humidity packages separately.
Humidity packets can be purchased directly from www.bovedainc.com or a local cigar store.
Refer to Humidor Humidity for more information.
See 30" Designer Wine Storage Humidor for installation instructions.

Touch Reset on the control panel.
The control shows, "Reset humidor?"
Touch Yes to reset.

Touching No on this screen returns to the Humidor Packet Replacement Reminder screen.
If the humidor icon is turned off and then on again using the main options screen, the timer for the reminder is also reset.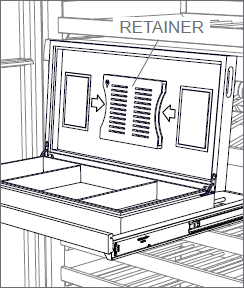 DID THIS ANSWER YOUR QUESTION?

We're standing by with answers
Whether you're shopping for appliances or have questions about those you already own, we've got the resources you need. Talk directly to a customer care expert at the Sub-Zero, Wolf, and Cove service center, or connect with an appliance consultant at an official showroom near you. Get quick answers online, or reach a certified service provider or installer. And much more.
Call us at (800) 222-7820