Skip to main content
Topics:
How to assemble the charbroiler
How to use the charbroiler
How to turn on the charbroiler
Troubleshooting:
Assemble Charbroiler
Use care when assembling the charbroiler to avoid contact with the ignitor.
To assemble, position the charbroiler frame on the range.
Gas Ranges and RT Rangetops only:

Position the blank-off plate centered directly on the ceramic tiles.​​​​​​​

Dual Fuel and SRT Only:

Align the slots of the radiant plate with the front angle of the frame.
Refer to the illustrations below.
The slots should fit over the front angle and sit flat on the charbroiler frame.

Install charbroiler grate.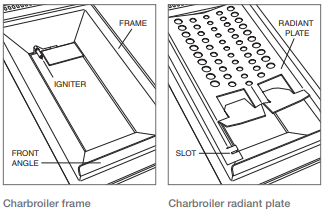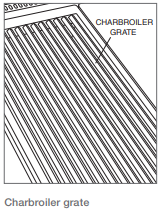 Charbroiler Operation
Stainless steel cover must be removed before operation.
Turn on ventilation.
Push and turn the control knob counterclockwise to HI. The ignitor will begin to click until the burner lights.
Allow to preheat for 10 minutes.
Answer:
The charbroiler has an infrared burner that transfers intense heat to food, searing the outside to seal in juices.
Wolf in-unit charbroilers are all gas fueled. However, the ignition is electric.
Cook food directly on the charbroiler grate. Do not use cookware.
Gas Ranges and RT Series Rangetops include a blank-off plate.
For optimal performance of the charbroiler and more even cooking on Gas Ranges and RT Rangetops, install the blank-off plate provided with the range.
Do not use a blank-off plate with a Dual Fuel Ranges or SRT Rangetops.
Dual Fuel and SRT Rangetops use a radiant shield in place of a blank-off plate.
Use of a third party blank-off plate is not suggested due to the high heat.
If the blank-off plate melts onto the burner, it can damage the unit.
See also:
DID THIS ANSWER YOUR QUESTION?

We're standing by with answers
Whether you're shopping for appliances or have questions about those you already own, we've got the resources you need. Talk directly to a customer care expert at the Sub-Zero, Wolf, and Cove service center, or connect with an appliance consultant at an official showroom near you. Get quick answers online, or reach a certified service provider or installer. And much more.
Call us at (800) 222-7820