Skip to main content
Legacy Dual Fuel Range and Sealed Burner Rangetop Island Trim
Topics:
Height and depth of the island trim on a Legacy Dual Fuel Range (DF) and Sealed Burner Rangetop (SRT)
Is island trim required for installation or ventilation of a DF, SRT?
Can tile or a backsplash cover the top of the island trim?
Is island trim functional or cosmetic on a Legacy Dual Fuel or SRT?
Answer:
Stainless steel island trim comes standard on the DF and SRT models and it measures 1.13" high x 0.87" deep. The width is the same width as the product.
Island trim is decorative and is needed for the installation of the DF and SRT appliances. It is attached along the back of the unit as shown below.
Do not cover the top of the island trim.
A backsplash of any material should go behind the island trim instead of sit on top of it.
Covering the island trim will create a problem with product removal.
The island trim is not removable for cleaning. Follow cleaning suggestions in the Wolf Cleaning Reference Guide for cleaning the surface of the trim.
Adding a riser may help to prevent grease from splashing into the island trim slots.
Instructions are not available for this installation. The trim is just held in place with the screws that ship in place when it leaves the factory.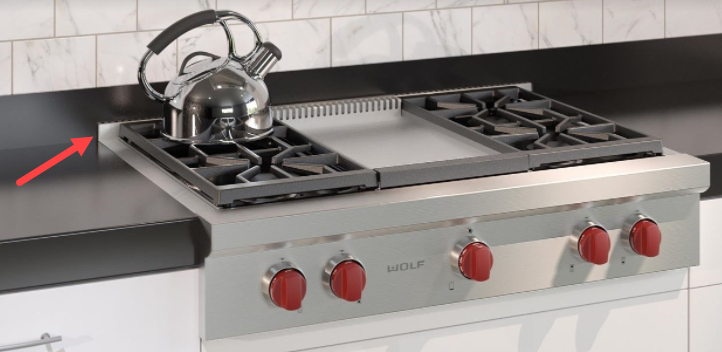 DID THIS ANSWER YOUR QUESTION?

We're standing by with answers
Whether you're shopping for appliances or have questions about those you already own, we've got the resources you need. Talk directly to a customer care expert at the Sub-Zero, Wolf, and Cove service center, or connect with an appliance consultant at an official showroom near you. Get quick answers online, or reach a certified service provider or installer. And much more.
Call us at (800) 222-7820